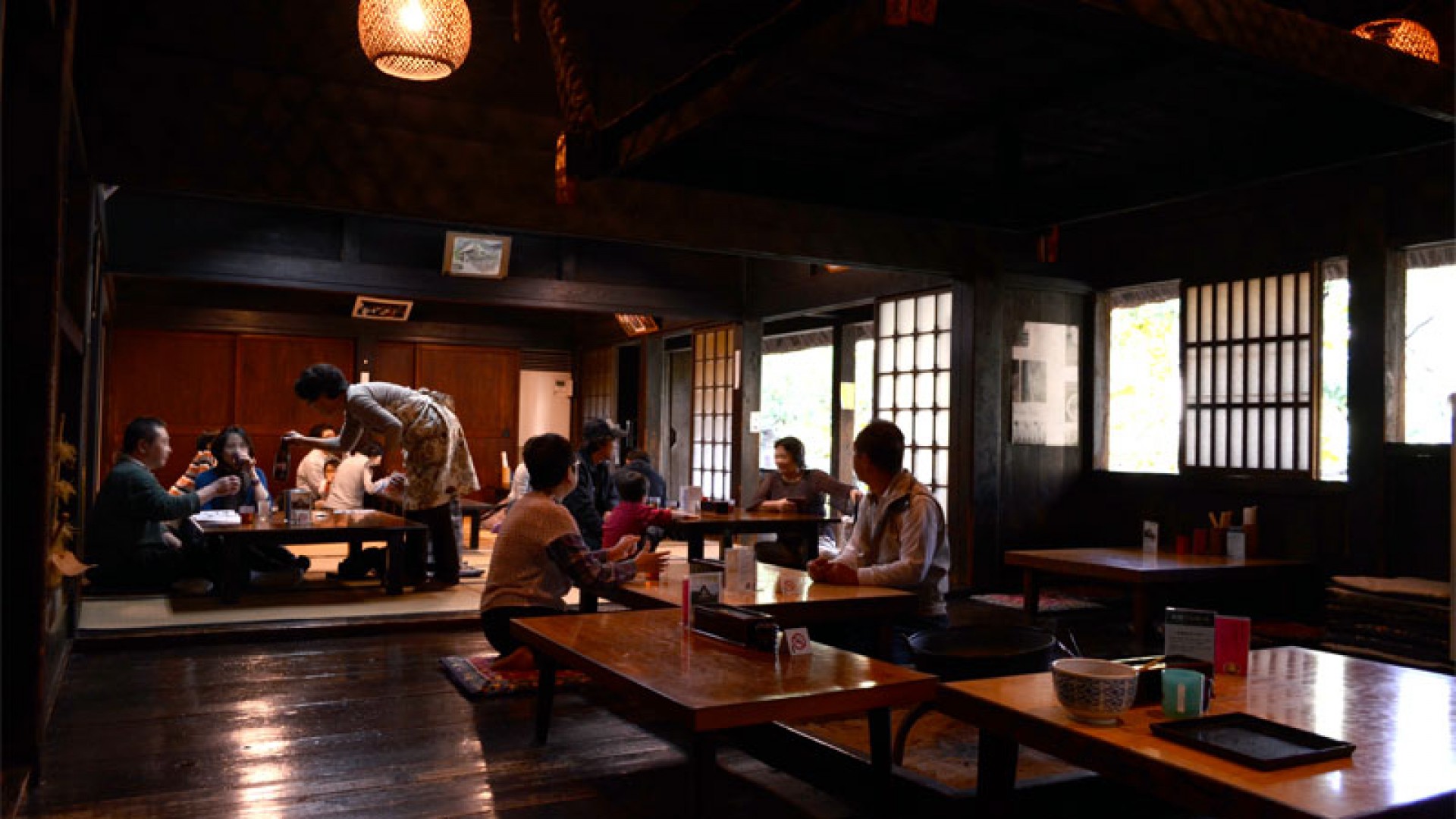 Soba Noodle Restaurant "Shirakawa-go" (inside Nihon Minka-en)
Soba Noodle Restaurant "Shirakawa-go" is on the 1st floor of the Yamashita House located in the center of Nihon Minka-en. This house is an old folk house with a large gassho-zukuri-style thatched roof, which is designated an important cultural property of Kanagawa prefecture. The soba noodle served here is made of spring water obtained from Oshino village in Yamanashi prefecture.
Visit the Japan Open-air Folk House Museum, Nihon Minka-en, to find the soba restaurant Shirakawa-go. Located on the first floor of the Yamashita House in the center of Minka-en, the gassho-zukuri-style thatched roof cottage is designated an Important Cultural Property of Kanagawa prefecture. The old folk house serves a variety of soba noodle dishes that use fresh spring water all the way from Oshino Village in Yamanashi prefecture.
The soba restaurant Shirakawa-go is open from 11am to 3pm—unless soba noodles sell out earlier—and remains open every day that Nihon Minka-en is open. With nine soba bowls to choose from, Shirakawa-go serves up the Japanese dish in a way that can please everyone. Whether visitors prefer hot soba or cold, taste the wild vegetables of the area in summer or enjoy grated yam or nameko mushrooms in winter. There are even a few Japanese dessert dishes available; have anmitsu or mitsu-mame for a real Japanese experience.
The Yamashita house, where Shirakawa-go operates from the first floor, was built in the early 19th century and stands three stories tall. It was once used for raising silkworms, but after being relocated from its original location twice (once in 1958 and again in 1970) many of the structures of its foundation have been lost. The complex plan of the living zone is divided into six rooms and is a place where visitors can truly see how the people of the past lived and worked.
At Japan Open-air Folk House Museum, more than 20 old folk houses are on display on the gentle slopes of Tama hills. The houses are arranged across five areas as they were in their original location: post town, Shin'etsu District village, Kanto village, Kanagawa village, and a Tohoku village. Visitors should also be sure to visit the Exhibition Hall for multi-media displays that explain how the folk houses were designed and built in authentic miniatures. The hall also serves to illustrate how people lived and worked in these houses of the past.
For a more hands-on experience, be sure to visit the dento-kogeikan for a traditional indigo dyeing workshop. Located at the West Gate, this workshop offers guests the experience of traditional indigo dyeing. There are seasonal displays of indigo-dyed artworks and a small gift shop where visitors can select their own items to dye at the workshop. For groups of five or more, an advance booking is required.
The Japan Open-Air Folk House Museum is closed on Mondays and from December 29th to January 3rd. An admission fee of 500 yen will let guests enter Minka-en and see all this historical folk house museum has to offer. The museum offers an audio-guide tour phone app downloadable before you visit.
Essential Information
Hours

11am–3pm (restaurant may close early when soba noodles run out)

In order to prevent the spread of coronavirus (COVID-19), various facilities may change their operating days or hours. Check the

official website

for the latest information.

Suggested duration

1h

Closed
Closed when Nihon Minkaen is closed
Costs

Roughly 1,000 yen

Facilities