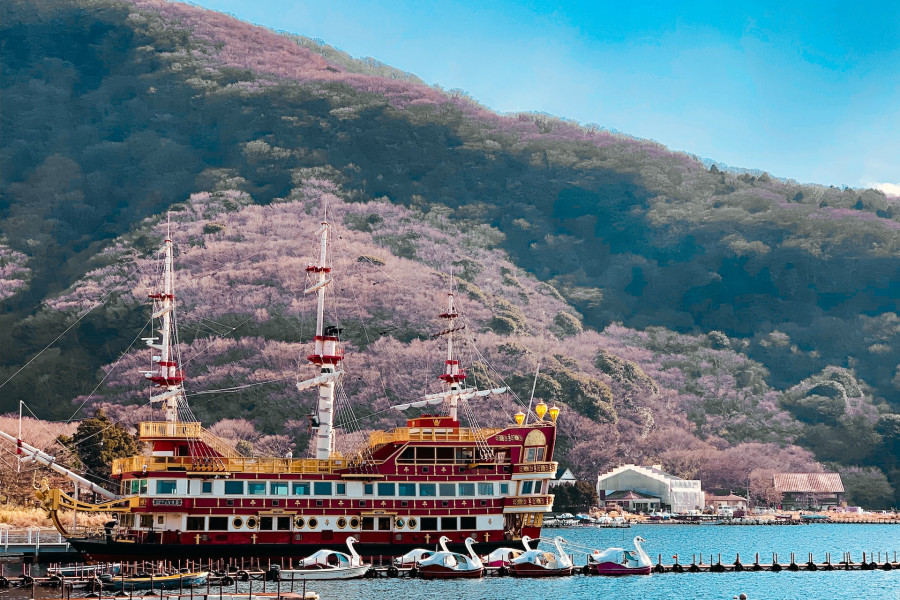 Kanagawa, Japan's second most populated prefecture after Tokyo, is a beloved travel destination among tourists and Tokyoites alike thanks to its variety of regional wonders. Explore centuries old temples, lush mountains and lakesides, and futuristic city streets all within the same region! Check out our guide below to learn helpful first-time information about this unique prefecture. We hope to see you in Kanagawa soon!
Where is Kanagawa?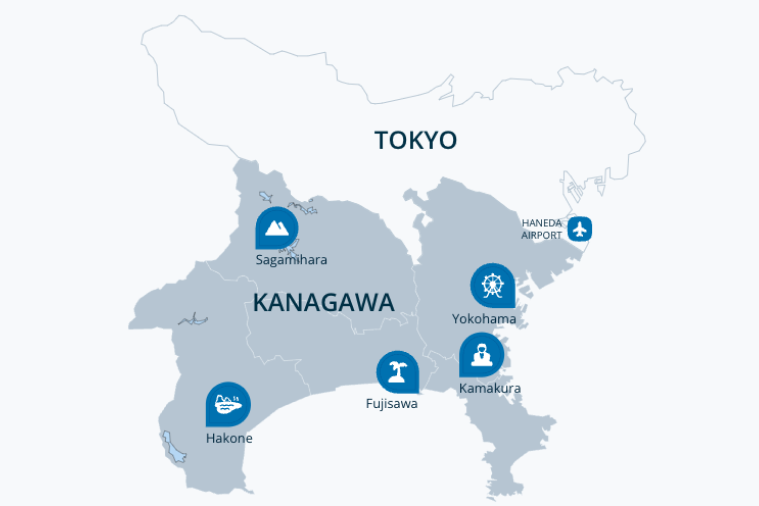 Kanagawa is situated directly south of Tokyo and also borders Yamanashi, Shizuoka, and Sagami Bay. Due to its close proximity to Tokyo, Kanagawa has long been an attractive getaway among city folk—with its most visited spots being Yokohama, Kamakura, and Hakone. Yokohama, Japan's second most populous city, encompasses a large portion of east Kanagawa, and Kamakura rests south of Yokohama along Sagami Bay. Hakone, one of Kanagawa's furthest destinations from Tokyo, is located on the prefecture's southwestern border.
What is Kanagawa known for?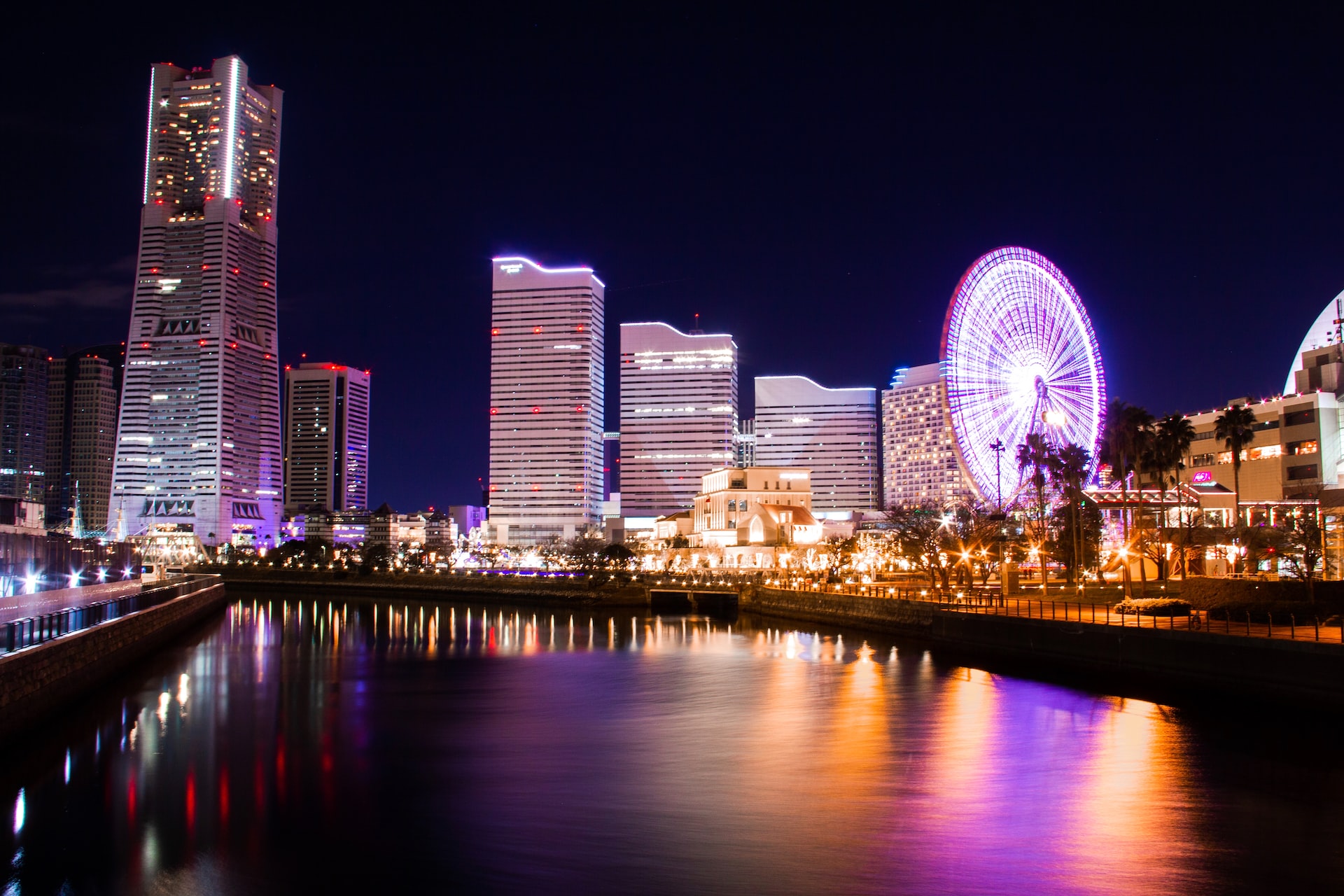 Kanagawa is home to a diverse range of destinations—from relaxing naturescapes to neon lit skylines. Yokohama, Kanagawa's capital city, is one of the prefecture's premier spots and is renowned for its waterfront skyline, museums, urban parks, and foreign-Japanese fusion culture. In contrast, Kamakura—a small yet culturally rich seaside city—epitomizes the more traditional side of Kanagawa and is famous for its temples, shrines, and beaches. On the western end of the prefecture, Hakone features some of Kanagawa's most scenic natural beauty and is home to a number of hot spring resorts. It also offers fantastic views of Mount Fuji from Lake Ashi and other vantage points.
How to get to and around Kanagawa?
Kanagawa is well connected to central Tokyo via a number of buses and train lines, making it a popular day trip from the city. Yokohama is one of the closest cities to Tokyo and generally takes about 20-40 minutes by train, followed by Kamakura at about one hour and Hakone at roughly 1.5 hours. The most common departure points are Tokyo, Shinagawa, Shinjuku, Ikebukuro, and Shibuya stations, which connect passengers to various parts of Kanagawa via JR lines—such as the JR Tokaido Shinkansen, JR Tokaido, and JR Shonan Shinjuku—as well as the Odakyu and Tokyu Toyoko lines. From Haneda airport, you can take the Keikyu Airport Line directly to Yokohama and then transfer to another line depending on your destination.
Once you arrive at your desired destinations, you can easily explore the areas by foot or bike or utilize the local trains, buses, and subways. Kanagawa also offers less conventional options that blend sightseeing and travel such as ropeways, water cruises, and rickshaws. Please note that most of Kanagawa's popular stations, such as Yokohama, Kamakura, Fujisawa, and Odawara offer coin lockers for luggage storage.
For additional savings, be sure to take advantage of the numerous discount passes available to tourists, which often include travel to and around your end destination, as well as perks and discounts at participating facilities. Please review the passes carefully and choose the one that best fits your itinerary!
Check out our Getting Around guide for more information.
When to visit Kanagawa?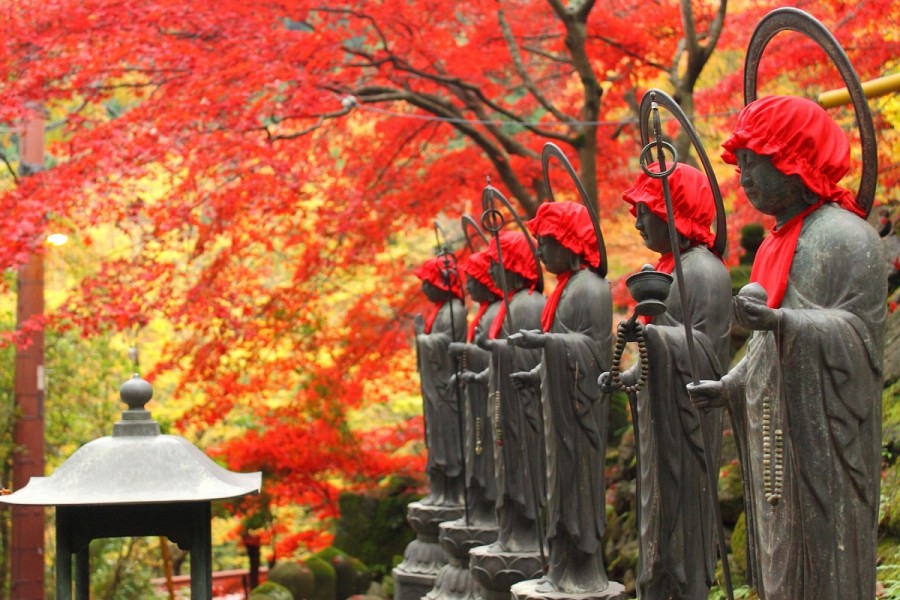 With enchanting activities in every season, Kanagawa is a wonderful destination year-round!
In Japan, spring is the season of cherry blossoms (sakura), and Kanagawa is no exception. The prefecture's lively cherry blossom festivals and multiple venues—including Odawara Castle Park, Kinugasayama Park, and Sankeien Garden— make it the perfect place to admire the pastel flowers. The region also features lovely parks and gardens to observe plum blossoms and other seasonal flowers.
As spring gives way to summer's heat, Kanagawa becomes the perfect summertime retreat thanks to its energetic festivals and fireworks displays. Yokohama in particular is an especially popular fireworks spot as it annually hosts the renowned Kanazawa Fireworks Festival at the end of August. Due to its location along Sagami Bay, Kanagawa is also home to numerous beaches, providing refreshing relief from the summer sun.
Thanks to its lush nature, Kanagawa is a wonderful place to enjoy the autumn foliage. Enjoy the vibrant hues at the region's hiking spots, Japanese gardens, and parks, or visit temples to admire the changing leaves against ancient architecture.
During winter, Kanagawa shines with mesmerizing illuminations–from the sparkling streets of Yokohama's Motomachi district to Enoshima's renowned light up event, known as one of the Three Greatest Illuminations in Kanto. This chilly season is also a great time to recharge at one of Kanagawa's famous hot spring resorts (onsens).
Where to stay in Kanagawa?
Kanagawa is home to a variety of accommodation options that perfectly fit into any itinerary. Lodge at campsites, hot spring resorts, upscale hotels, traditional inns (ryokan), and more. For an economical option, you can even opt to stay at a guest house. The most popular places to lodge are Yokohama, Yokosuka, and Hakone. Hakone in particular is renowned for its ryokan and is a treasured spot for people to unwind in nature encircled hot springs. Whether you are looking to reconnect with nature, pamper yourself, relax, or enjoy traditional Japanese hospitality, Kanagawa's lodging options have you covered.
Top Things to Do in Kanagawa
Admire Architecture
Kanagawa is rich in unique architecture and embodies both the past and present with its centuries old shrines and temples and modern city skyline of Minato Mirai. Some of the most popular sights are Tsurugaoka Hachimangu, a shinto shrine, Hasedera Temple, Odawara Castle, the Enoshima Sea Candle, and the Yokohama Landmark Tower.
Relax in Hot Springs
Hakone has long been cherished for its hot spring waters, and thus is home to dozens of bath houses and ryokan. Many of these Japanese onsens are nestled in the mountains' lush nature, creating truly tranquil bathing experiences. Some even feature views of Mount Fuji!
Explore Nature
With mountains, glittering lakes, and verdant forests, Kanagawa is a nature lover's paradise. Destinations such as Lake Ashi, Enoshima, and Mount Oyama are perfect places to reconnect with nature. The prefecture also features a number of gardens and city parks—including Yamashita Park and Sankeien Garden—that highlight the beauty of manmade nature.
Visit Museums
Kanagawa's diverse museums truly have something for everyone. Enjoy an outdoor composition of nature and sculptures at The Hakone Open-Air Museum, learn all about Cup Noodles at Cup Noodles Museum Yokohama, and admire works by famed manga artist Fujiko Fujio at Fujiko F. Fujio Museum. No matter where you visit, you are guaranteed to leave enlightened and happy.
Enjoy Local Cuisine
Kanagawa is the place to be for foodies! The prefecture's location along the water and collection of port cities has bred unique regional dishes such as Yokosuka Kaigun Curry (British-Japanese style navy curry), and Chinese-influenced pork buns and dumplings in Yokohama's Chinatown. The area is also home to delicious Japanese cuisine including iekei ramen, shirasu (whitebait), Misaki's maguro (high quality tuna), Odawara's kamaboko (fish cake), and more.
Model Itineraries