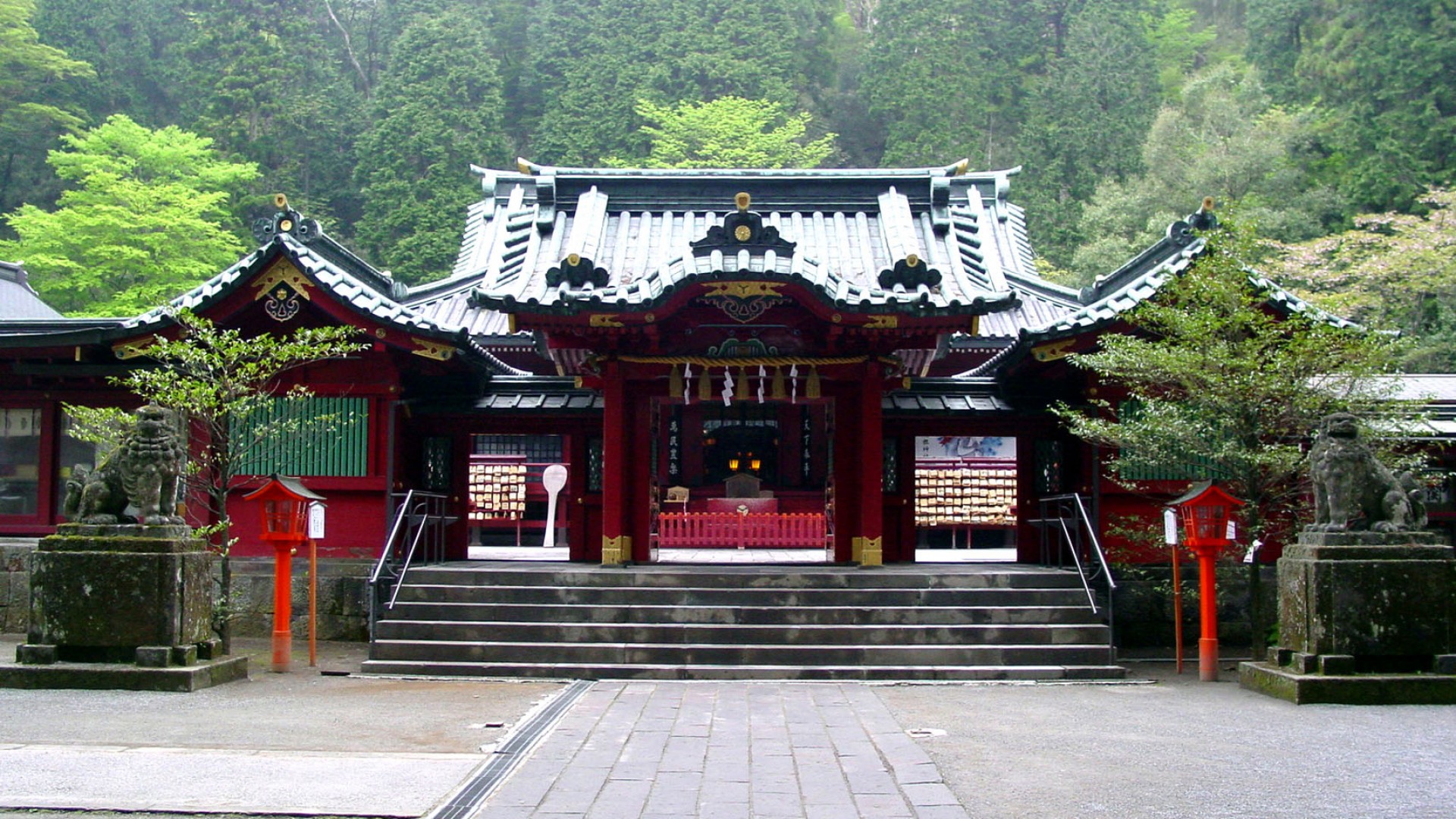 Hakone-jinja Shrine
Hakone Shrine is an ancient shrine celebrating its 1265th anniversary. Founded in 757, the first year of the Tenpyo-Hoji Era, at the beginning of the Nara Period (710-794), when Mamaki Shonin, who was in ascetic training on Mount Hakone, was entrusted by the Great God of Hakone to the shrine at its current location by Lake Ashi. During the Kamakura period, Minamoto no Yoritomo deeply worshipped Hakone Shrine, giving birth to the custom of nishomode (pilgrimage to two shrines). Since then, the shrine has flourished as a place of reverence for warriors such as the regent Hojo and the warlord Tokugawa Ieyasu, as well as a sacred place for Shugen (Japanese mountain asceticism). In modern times, with the construction of the Hakone Road, Hakone became a sacred place of worship for the common people, and belief in Mount Hakone as a deity highly virtuous for protecting against bad luck, fulfilling one's desire, and ensuring traffic safety became even more popular. The approach from the Heiwa-no-torii (peaceful gateway) by Lake Ashinoko to the main shrine is flanked by rows of cedar trees more than 600 years old, giving the shrine a majestic appearance, behind the vermilion-lacquered Gongen-zukuri main shrine building is a pure forest of himeshara, a natural treasure of Kanagawa Prefecture, and the Gongen Mitarashi pond and Lake Ashi below reflect the vermilion Peace Gate and the sacred Mount Fuji, surrounding the shrine with beautiful nature. Many visitors from around the world come to pay their respects at the Kuzuryu Shrine (Shingu and Hongu), which is a shrine revered not only for its good fortune and prosperity, but also for its protection of money, prosperity in business, and match-making, particularly during the Tsukinamisai held at the main shrine on the 13th of each month. [Divine virtues] Good luck repelling of bad luck, fulfillment of one's desires (protection against bad luck), traffic safety, match-making, family safety, and business prosperity [Deity] Hakone-ookami [Form of worship] 2 clapping hands 1 worship
Travel tip
On July 31st, the shrine organizes the Ashinoko Kosui Matsuri Festival to celebrate a legendary dragon. Monks sail the lake on pirate ships offering red rice to the depths below. Floating lanterns illuminate the lake waters while fireworks light the skies above.
Hakone-jinja Shrine at night
Lake Ashinoko Summer Festival Week: Hakone Summer Festival offers a variety of events such as the biggest annual festival of Hakone Shrine with Shinto celebrations and rituals, fireworks, and more. Many fireworks will be launched at a total of six fireworks festivals, adding color to the summer Hakone sky.
Essential Information
Admission hours

Pilgrimage office and shrine stamps: 8:15-17:00
Hours for praying: 8:30-16:00
Treasure Hall: 9:00-16:00

Duration

1h

Closed
None *Temporary closure of the Treasure House due to exhibition changes, etc.
Admission fees

Shrine: Free
Museum: Adults / 500 yen, Children / 300 yen, discounts for groups with over 25 people

Facilities
Online Reviews
TripAdvisor