Chigasaki: Hawaiian vibes in the heart of Japan
Chigasaki is a relatively small city in the heart of the Shonan Area. Known for being the birthplace of Japanese surf, it's also a twin city to Honolulu, and many shops and cafes around bear an important Hawaiian influence. It's the perfect place to spend a day away from the stress of the megalopolis and refill your energy, whether you are traveling alone or as a group!
Departure from Tokyo in the morning
Chigasaki is easily accessible with two direct train lines running all day long, that can be hopped on from either Tokyo Station (JR Tokaido Line) and Shinjuku Station (JR Shonan Shinjuku Line) and will get you to Chigasaki in about an hour ride.
Arriving at Chigasaki station, you will then be heading to Southern Beach. There are two options available, walking or renting a bike (several Daichari rental spots available nearby the station, but the app and service are only available in Japanese). If you arrived early enough and don't mind a stroll, we then recommend walking via Southern Street (サザン通り). The walk takes between 20 and 30 minutes, and you'll also have plenty of opportunities to grab a coffee or some food to go should you want to. While heading there, pay attention to the sounds and music, and you may notice a recurrent song being played, by Southern All Stars (サザンオールスターズ). The band, formed in 1975, is originally from Chigasaki and is loved so much around here that both the beach and the street took their name from it.
First Stop: Chigasaki Southern Beach
While heading there, you will likely start noticing more and more people wearing wetsuits or having surfing boards attached to their beach cruisers: as mentioned above, Chigasaki is known for being the birthplace of Japanese surfing and remains to this day a very popular spot for surfers.
Arriving at the beach, one of the first things you'll notice is the Chigasaki Southern Beach symbol, a "C" shaped landmark standing over the beach. This is a famous photo spot, for people that stand on the right side of it will be able to form a circle (円 / En in Japanese), meaning the tying of fate. If the weather is nice enough, you may also be able to take a perfect snap of the Eboshi Rock in the middle of it.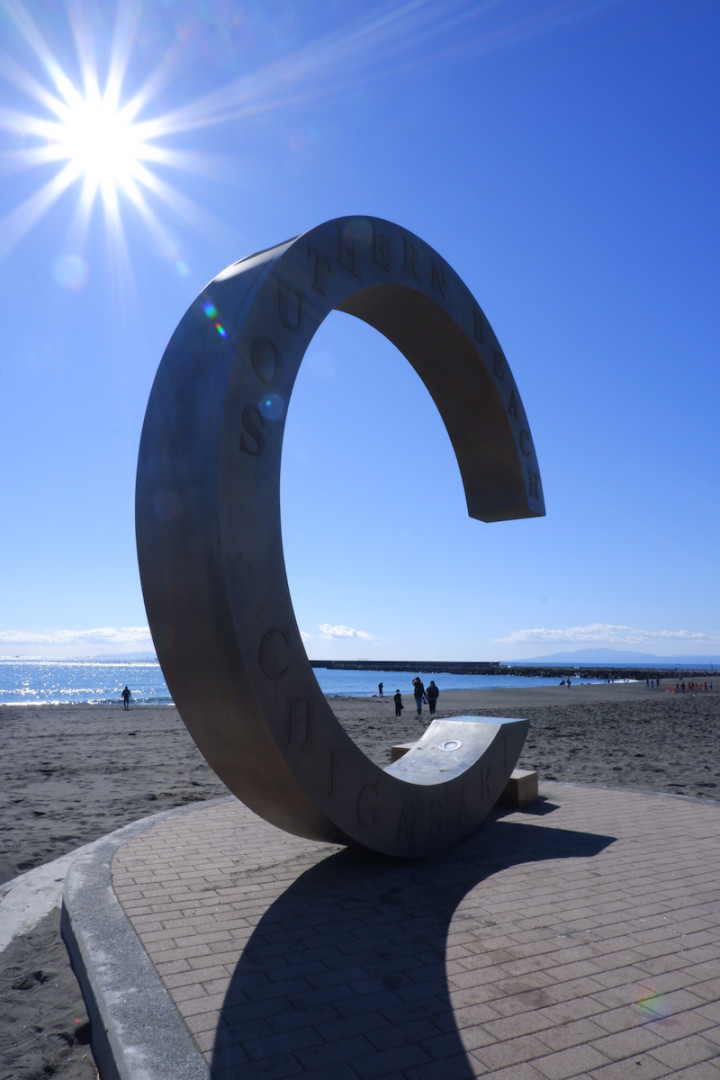 The rock is another symbol of Chigasaki, thanks to its unique shape, and is visible from the beach. As such, you will likely see several symbols and signs around the city shaped like it, including the main city mascot's hat (Eboshimaro)!
If the weather and conditions are nice enough, you can hop on a cruise and see it from up close, but make sure to check the availability first!*
And if you are lucky and the skies are clear, you may also be able to have a great view of mount Fuji from the beach.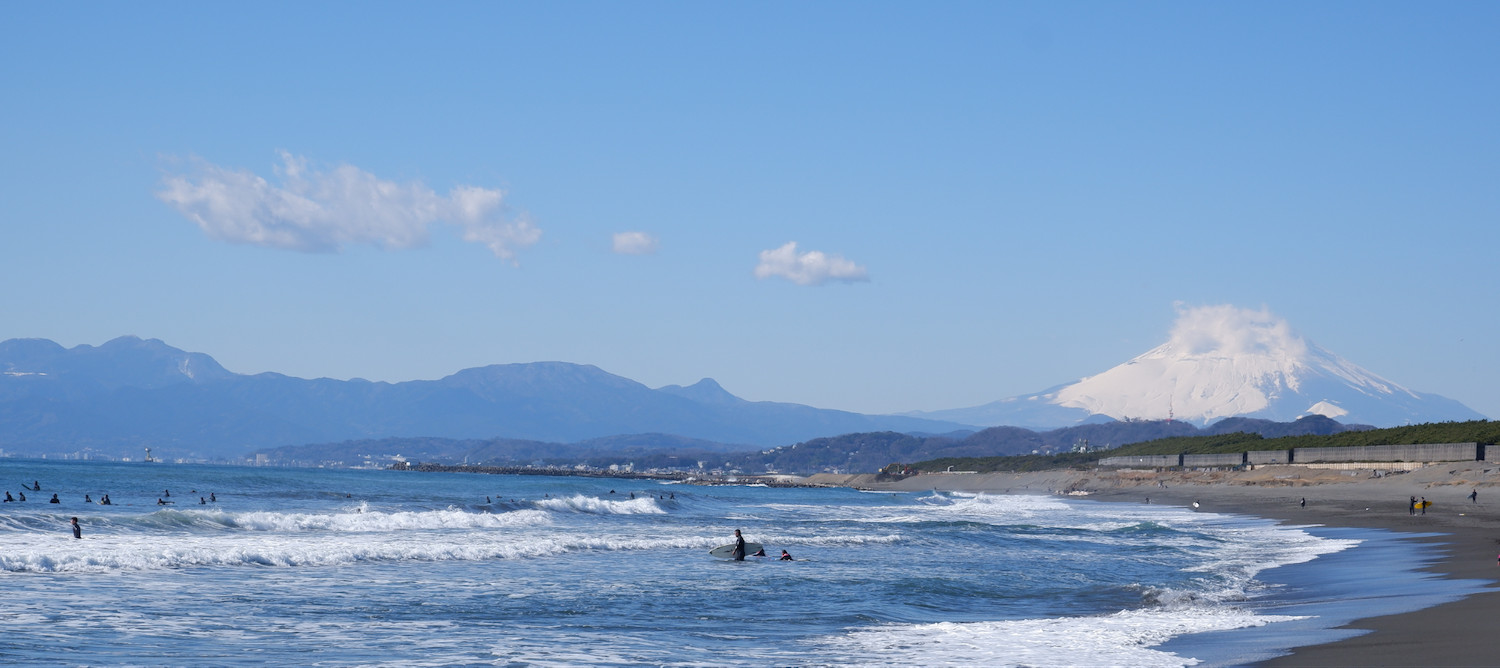 Once at the beach, you can stroll around and spend some time like a true local: just chilling on the beach or enjoy one of the cafes and restaurants located right in front of the beach, with a unique view of the ocean, such as the Southern Beach Cafe.
*Cruises are scheduled with departures at 10am, 11am and 12pm. Necessary to check availability by phone prior to departure (sea and weather conditions affecting the schedule).
Information:
Southern Beach address: 4 Chome-12986-5 Nakakaigan, Chigasaki, Kanagawa 253-0055
Eboshi Rock Cruise: Phone number (Japanese) 0467-82-6946
Lunchtime: Where to eat?
Chigasaki, like many places in Japan, has a lot to offer in terms of food, especially seafood. And one of the local specialties of the region is shirasu (whitebait). If you are looking to try this dish, then several options are available and—of course—you will be able to try fresh ones caught the same day.
If you head towards the west side of the beach from the C landmark, you will find the renowned restaurant Kattobi, which specializes in shirasu dishes, getting the fish straight from the sea thanks to its advantageous location. Should you prefer to head back towards the city center, a second Kattobi restaurant is located within the station building, in the restaurant floor at the top.
Shirasu is a type of sardine and can be split into two different categories, the spring one coming from the current off the coasts and are fished in the open sea, and the summer and fall ones that grow directly on the coast.
Information about Kattobi
Started as fishermen in 1924 with their own boat, now the Kattobimaru (快飛丸), then started selling fish-related products in 1990 and finally opened their restaurants in 2000.
Address: 15-12 Yanagishimakaigan, Chigasaki City, Kanagawa
Cost ranging from 1,000 to 3,000 yen
Business hours: 11.30AM - 3.00PM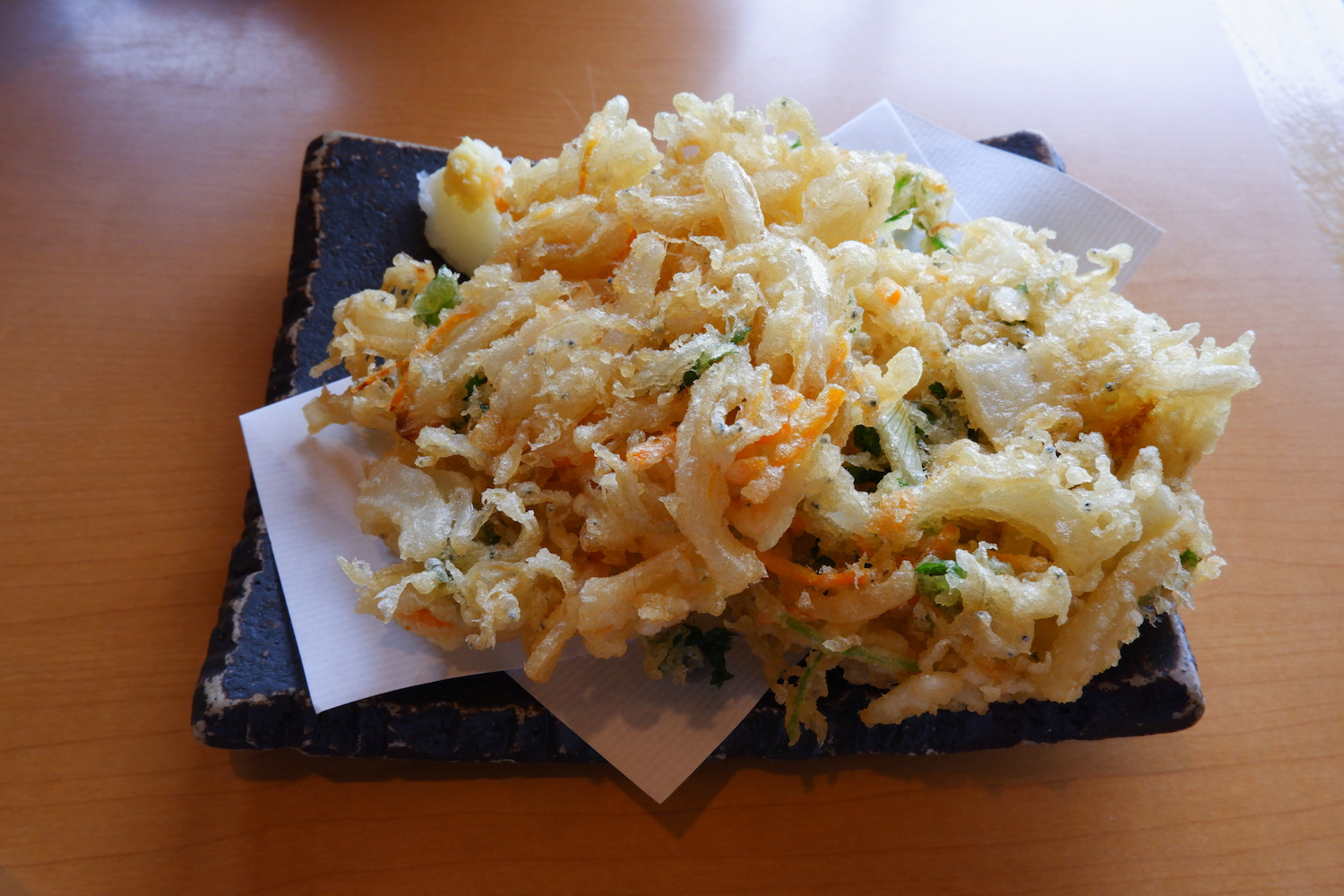 Second Stop: Chigasaki Satoyama Park
The next stop of your day in Chigasaki is Satoyama park. Located in the outskirts of the city center, towards the mountains, you will be taking one of the several bus lines departing from the north side of the Chigasaki Station to get there. The fastest option will be line 50, taking about 20 minutes from the station and leaving you just a few minutes walk from the park.
If you are traveling with kids, this will likely be their favourite part of the day. The park is very family-friendly, offering a great deal of amusement not only thanks to the wide green area for outside sports and the nature surrounding it, but it also hosts facilities for kids of all ages such as a giant 70-meters long slide or a trampoline area.
If you are not planning on using those facilities, then you can quietly stroll around and enjoy the nice part of nature in the park, heading down to the memorial garden surrounded by bamboo trees and enjoy the Japanese garden.
Information:
Address: 1030 Serizawa, Chigasaki, Kanagawa
Bus: Take a bus bound for "Bunkyo daigaku" from Chigasaki Station (North Exit) and get off at "Serizawa Iriguchi" station
Website (In Japanese): http://www.kanagawa-park.or.jp/satoyama/
Additional information: parking is available for drivers (fees applicable)
Back to the station
Once your time at Satoyama is over you'll be heading back to the station the same way you used to get to the park. From there, you will be able to spend some time exploring the city center. Should you want a little bit more time in a green area, the Chigasaki Central Park is just 5 minutes heading north.
If you are missing some museum experiences, then the Chigasaki City Museum of Art is just a few minutes away down south. Surrounded by a nice little park in a quiet area, you can stroll with very little people around and enjoy some more quiet time.
If you prefer instead to stay really close to the station, you can still have a look at a small local shrine: Itsukushima Shrine (not as famous as the homonymous shrine in Hiroshima!). It is said that the shrine brings luck and fortune to the local artists, who then favor it for Hatsumode (for the first shrine visit of the new year).
Information:
Chigasaki City Museum of Art: 1 Chome-4-45 Higashikaigankita, Chigasaki, Kanagawa 253-0053 / Open from Tuesday to Sunday, 10am - 5pm
Chigasaki Central Park: 2 Chome-3-1 Chigasaki, Kanagawa 253-0041
Itsukushima Shrine: 2 Shineicho, Chigasaki, Kanagawa 253-0044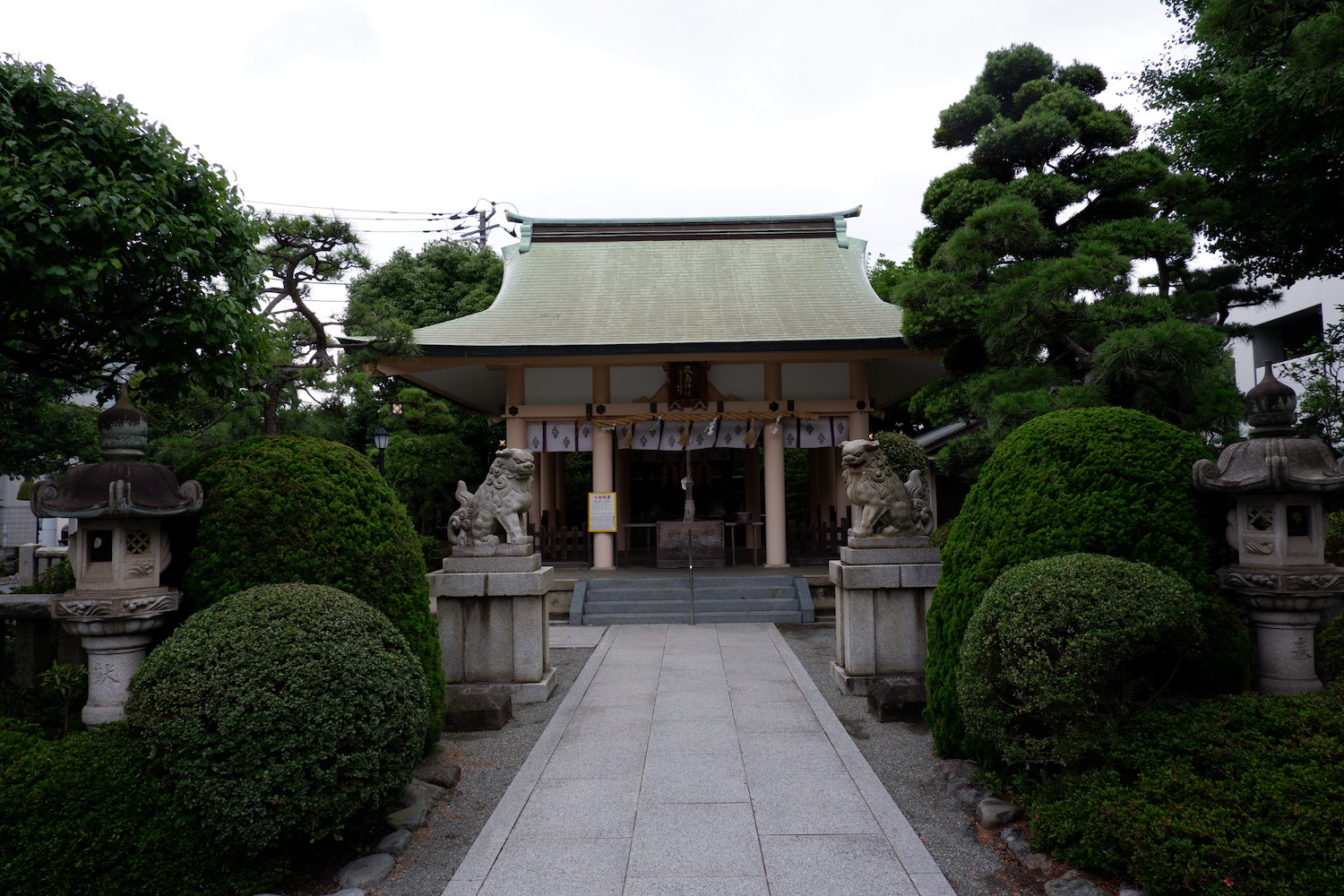 Once your visit is over, you will already be right next to the station. Should you wish to get some souvenirs, there is plenty to choose from in the station building, otherwise you can head to the tracks. There are not many lines coming through, and the trains headed to Tokyo will be leaving from platform 5. Depending on which station you want to arrive at, make sure to take either the Shonan-Shinjuku line (for Shinjuku Station) or the Tokaido Line (for Shinagawa and Tokyo stations).
Interesting fact: when heading back to Tokyo, before getting on your train at Chigasaki station, pay once more attention to the jingles when the trains are leaving: once more, the tune is one of Southern All Star's songs!
Summary:
Depart in the morning from Shinjuku or Tokyo Station, taking the direct train to Chigasaki (both JR lines can be used with the JR Pass)
From Chigasaki station, walk to the Southern Beach, from which you will spend some leisure time enjoying the views and the cafes nearby. Make sure to try out the local fresh shirasu.
After lunch, head back to the station and hop on the bus to Satoyama Park, vending machines are available for drinks and snacks. Visit the gardens and feel the atmosphere before going back to the city center.
Stroll around, discover a few more spots, and when ready, you can take the train back to Tokyo!
Chigasaki is unlike many other cities surrounding the Tokyo area, with people there enjoying taking it easy. Even shops and businesses working hours are based on what is called "Chigasaki time", and most of them will not open before 9 or 10am!