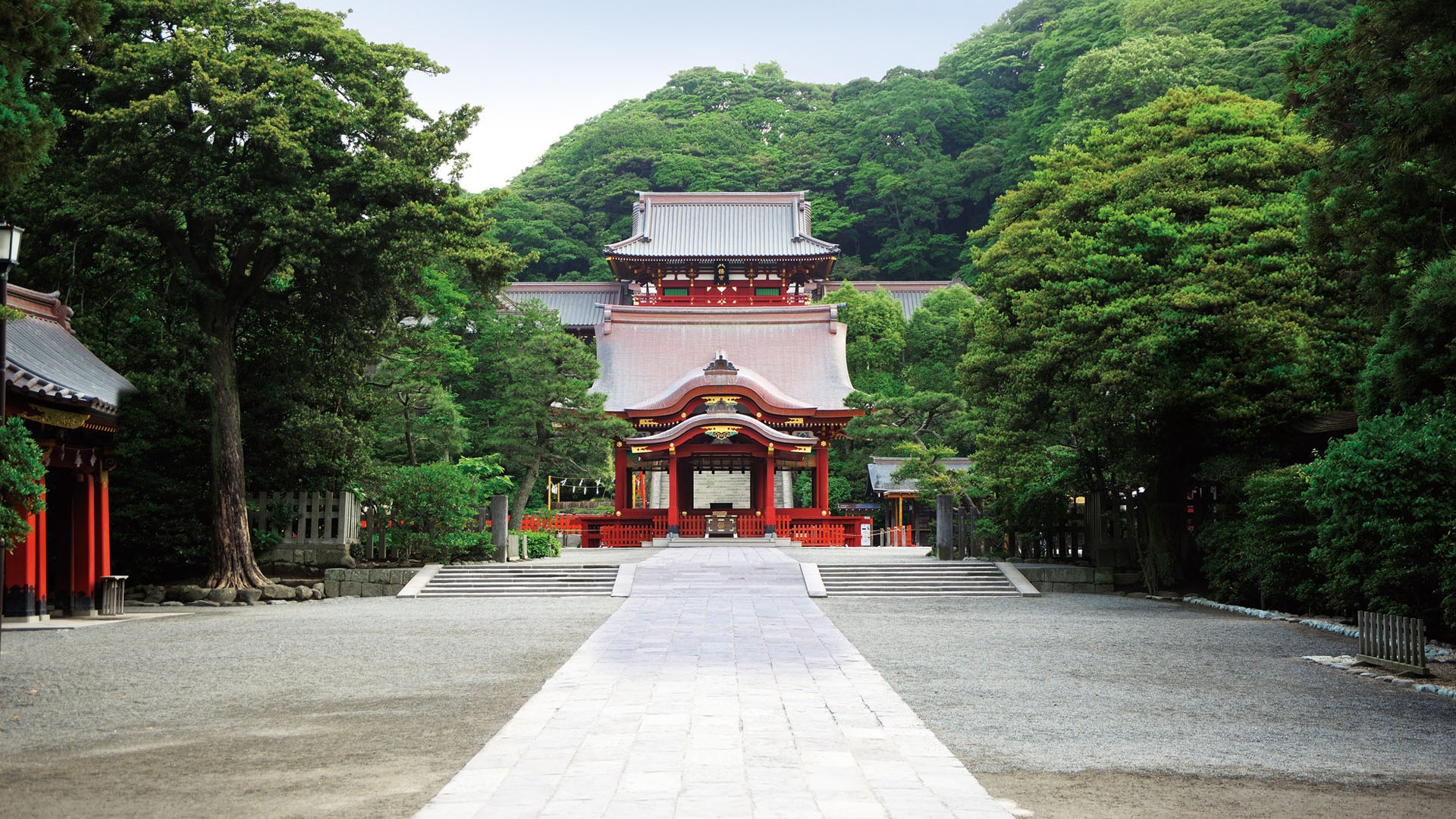 Tsurugaoka Hachimangu
Alongside Usa and Ishimizu, Tsuruoka Hachimangu Shrine is one of the major Hachimangu shrines in Japan. In the 6th year of the Kouhei Era (1063), Minamoto no Yoriyoshi returned after subduing the Oshu region and entered Kamakura, where he secretly transferred Ishimizu Hachimangu Shrine to another shrine in Yui Township Tsuruoka near the coast and called it Tsuruoka Wakamiya Shrine. Later in the 4th year of the Jisho Era (1180), Minamoto no Yoritomo entered Kamakura and relocated the shrine to Kitayama in Kobayashi Township (the current site). In the 2nd year of the Kenkyuu Era (1191), the shrine pavilion was built on the hillside of the Mount Daijinyama, and the current spectacular upper and lower palaces were built. Since then, the shrine has been the head of the Kamakura Shogunate's religious order and has been revered as the deity of the Minamoto clan and the guardian deity of the warrior class. The present main shrine was rebuilt in 1828 by Ienari Tokugawa, the 11th shogun of the Edo Shogunate, and is designated as a National Important Cultural Property along with the regent shrine Wakamiya. Deities: Emperor Ojin, Himejin, and Empress Jingu. Regularly held festival day: September 15. The shrine has a Wakamiya regent shrine, Takeuchi Shrine, Maruyama Inari Shrine, Shirahata Shrine, Soreisha Shrine, Hatagami Benzaiten Shrine, and an Imamiya Shrine and Yui Wakamiya Shrine outside of the shrine grounds.
Travel tip
An imposing shinto shrine founded in 1063, Tsurugaoka Hachimangu is the spiritual center of Japan's ancient capital Kamakura, so important that the city was built around it. In spring, the 1.8 km approach from the station is lined with vibrant pink cherry blossoms.
Tsurugaoka Hachimangu in the morning
The best time to visit a shrine is in the morning, so start your day with a visit and breathe in the crisp morning air.
Essential Information
Check the official website for the latest information.
| | |
| --- | --- |
| Admission hours | 5:00~20:00 |
| Duration | 1h |
| Admission fees | Treasure hall entry fees: Adults 200 yen, Children (elementary school) 100 yen. |
| Access | Kamakura Station, JR Yokosuka Line, Enoshima Electric Railway Line |
| Facilities | |
| Language | |