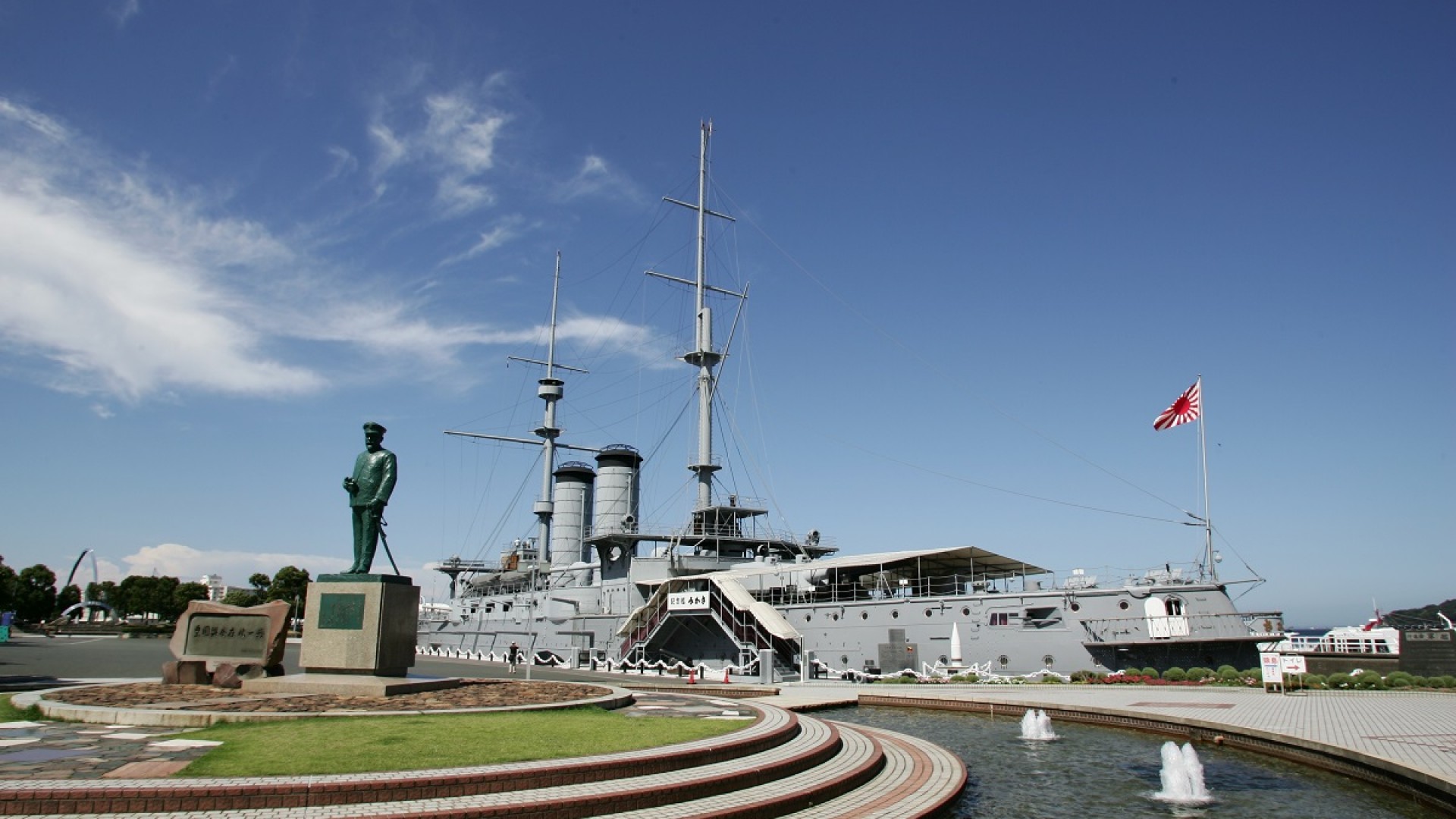 Mikasa Historic Memorial Warship
Memorial Ship MIKASA is a battle ship that was built in England 1902 (Meiji 35). In 1905 (Meiji 38), MIKASA was led by Admiral Heihachiro Togo, Commander-in-Chief of the Combined Fleet, and battled as a Falg ship of the Combined Fleet in the Battle of Tsushima. Japan won an overwhelming victory in the battle against Baltic Fleet of Russia. Japanese are proud of MIKASA's unsurpassed accomplishment, and the ship is the symbol of our pride.
Travel tip
Listed as one of the worlds three great memorial ships, Mikasa was used defensively to defeat the Russian Baltic fleet during the Japanese-Russo War. Below deck is a great museum filled with excellent presentations about the ship's history.
The memorial ship Mikasa is a pre-dreadnought battleship built for the Imperial Japanese Navy in 1899 and 1900. The impressive vessel was in commission from 1902 to 1923. Named after Mount Mikasa in Nara, the ship served as a flagship throughout the Russo-Japanese War from 1904 to 1905. After the war and an accidental magazine explosion, the salvaged Mikasa was repaired and served as a coast-defense ship during World War I. This service continued through the Siberian Intervention and into the Russian Civil War.
Mikasa was the last of six battleships that Japan commissioned from the United Kingdom-based Vickers shipyard for the cost of 80 million yen at the time. With an overall length of 131.7 meters, a wide beam of 23.2 meters, and a normal draught depth of 8.3 meters, Mikasa was a formidable sight indeed. Mikasa was able to house a crew of 860 officers and enlisted men; she was powered by two vertical steam engines, each using steam generated by 25 boilers. The engines were able to reach top speeds of 18.45 knots (34.17km/h). With over 2,000 tons of coal on board, Mikasa could steam for 9,000 nautical miles (17,000 km).
The main onboard battery of Mikasa consisted of four 40-caliber twelve-inch guns mounted in twin-gun barbettes with armored hoods to protect the guns; these were often called gun turrets. They fired 850-pound (386 kg) projectiles at 730 meters a second. In addition to those four deadly weapons, Mikasa also held a variety of other onboard armaments: fourteen 40-caliber 6-inch quick-firing guns and lighter arms consisting of sixteen 47-mm guns. Two submerged torpedo tubes were equipped on each broadside of the ship as well. Mikasa was no doubt a fearsome sight.
After being decommissioned on September 20, 1923, following the Washington Naval Treaty of 1922, Mikasa was preserved as a museum ship at Yokosuka and later badly neglected during the post-World War II Occupation of Japan. Mikasa underwent extensive refurbishing in the 1950s and was partially restored to her former glory. On May 27, 1961, a splendid restoration ceremony was held for Mikasa, attended by Prince Masahito Yoshi, who represented the emperor. Now a museum ship at Mikasa Park, Yokosuka, today, Mikasa is the last remaining example of a pre-dreadnought-era battleship anywhere in the world.
Visit the Mikasa nowadays, and you'll be sure to embark on a trip through time. Walk through the forward, middle, and rear compartments of the bridge, upper deck, and main deck to see the places where the Japanese Imperial Navy crew members once stood. As you imagine what life was like for the crew, experience the various exhibit rooms on the main deck and learn more about the history of Mikasa via photographs, treaties, and other artifacts.
Mikasa can be reached by rail on the Keihin Kyuko Line; get off at Yokosuka Chuo Station and walk for 15 minutes. Or use the JR Yokosuka Line, disembark at Yokosuka Station, and take the bus to Mikasa Park Stop.
Essential Information
Hours

Apr-Sep: 9am–5:30pm
Oct-Mar: 9am–5pm
Nov-Feb: 9am–4:30pm

In order to prevent the spread of coronavirus (COVID-19), various facilities may change their operating days or hours. Check the

official website

for the latest information.

Suggested duration

1h

Closed
Dec 28 to Dec 31
Costs
Access

15 minutes walk from Yokosuka Chuo Station (Due to change of route)

Facilities
Language
Online Reviews
TripAdvisor