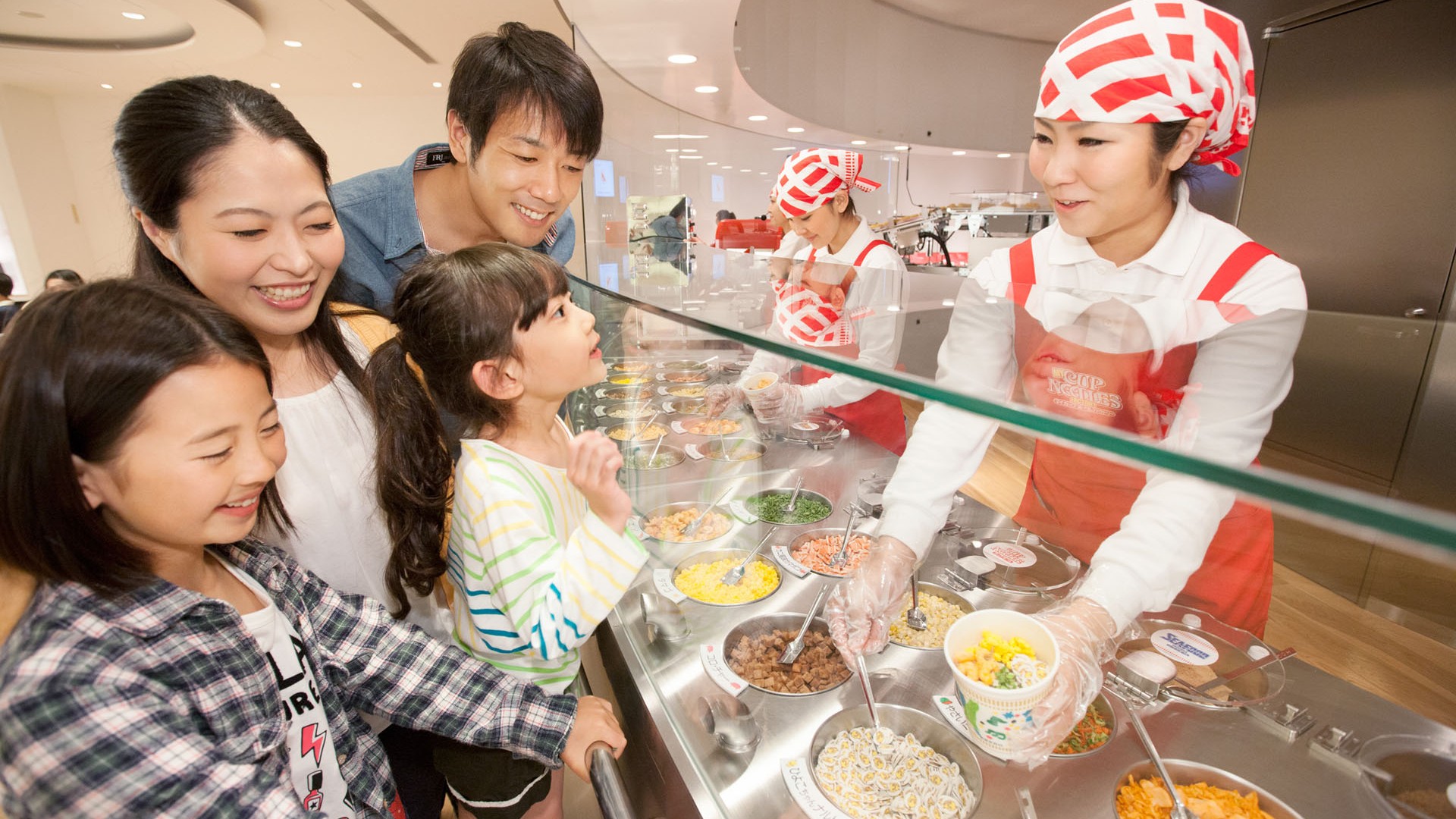 Cup Noodles Museum, Yokohama
An interactive food education facility opened in Minato Mirai Area. This facility has various CUPNOODLES displays and do-it-yourself experience to enable visitors to enjoyably experience discovery and inventiveness. You can mix and match various soups and ingredients in a cup you designed to make your very own CUPNOODLES. There is also a CUPNOODLES Park where you can experience how CUPNOODLES products are manufactured by becoming a "noodles" and going through production until shipment from the factory.(The My Cup Noodle Factory requires a "ticket" or "voucher".)
Travel tip
Find out how Momofuku Ando, penniless at the age of 48, made noodles into a global industry. Watch how cup noodles are made, then make your very own cup noodles to take home as a souvenir.
Visit the Cup Noodles Museum in Yokohama for a truly unique and immersive experience. This interactive museum was designed to nurture curiosity within children, while also providing an educational and hands-on experience. With various Cup Noodles displays and do-it-yourself areas, stir your inner creativity as you mix and match various soups and ingredients to create your very own instant noodles masterpiece to take home, in a cup that you can custom design.
In the museum portion of the facility, you can learn how the penniless 48-year old Ando Momofuku became the father of instant ramen and turned his noodle business into a worldwide phenomenon. Momofuku Ando dedicated his 96 years to thinking about food in new and creative ways, and never gave up until he accomplished his goals. In 1958, in a small shed behind his home, Momofuku invented a "magic ramen" that only needed hot water to be eaten. He worked tirelessly for a year, until his invention was finalised. Later, in 1971, on a trip to America, Mr. Ando watched as workers broke apart his Chicken Ramen noodles and put them in a cup before pouring hot water on top. It was then that he rethought the concept of instant food and how people eat and use the product. Through this epiphany, he came up with the first Cup Noodles, which subsequently became a worldwide sensation. Ando Momofuku continued with his inventions well into his later years, even making Space Ramen in 2005.
The Cup Noodles Museum was created with Ando Momofuku's spirit of creative thinking in mind. Nowadays, the museum is not only visited by thousands of Japanese children but adults and children from all around Asia. There is lots to do at the Cup Noodles Museum so be prepared to feed your curiosity. At the Chicken Ramen Factory, experience the process of kneading, spreading, and steaming wheat flour noodles, then be awed by the flash frying method. In the My Cup Noodles Factory, you can create your own one-of-a-kind cup and select soup and toppings for your own Cup Noodles. Over at the Cup Noodles Park, you can even experience the production of manufactured Cup Noodles. Watch as noodles are taken from production line to factory shipment — all you need is a ticker voucher and you'll have a great time in the park area. There's also the Instant Noodles History Cube, the Momofuku theater, Momofuku's Work Shed recreation, and the Noodles Bazaar, where you can "travel" around the world and taste many different kinds of noodles on the "noodles road."
Gather knowledge as you see, touch, play, and eat your way through this incredible museum. It's an experience and reminder to stay young at heart and keep your mind open to the possibilities around you. You're sure to enjoy every minute!
Essential Information
Hours

10am–6pm (Entrance allowed till 5pm)

In order to prevent the spread of coronavirus (COVID-19), various facilities may change their operating days or hours. Check the

official website

for the latest information.

Suggested duration

1h30m

Closed
Tuesdays (following days when holidays) , year end & new year holidays
Costs

Adults: 500 yen
Under high school students: Free

Facilities

Wheelchair friendly
Wi-Fi Available

Language
Online Reviews
TripAdvisor