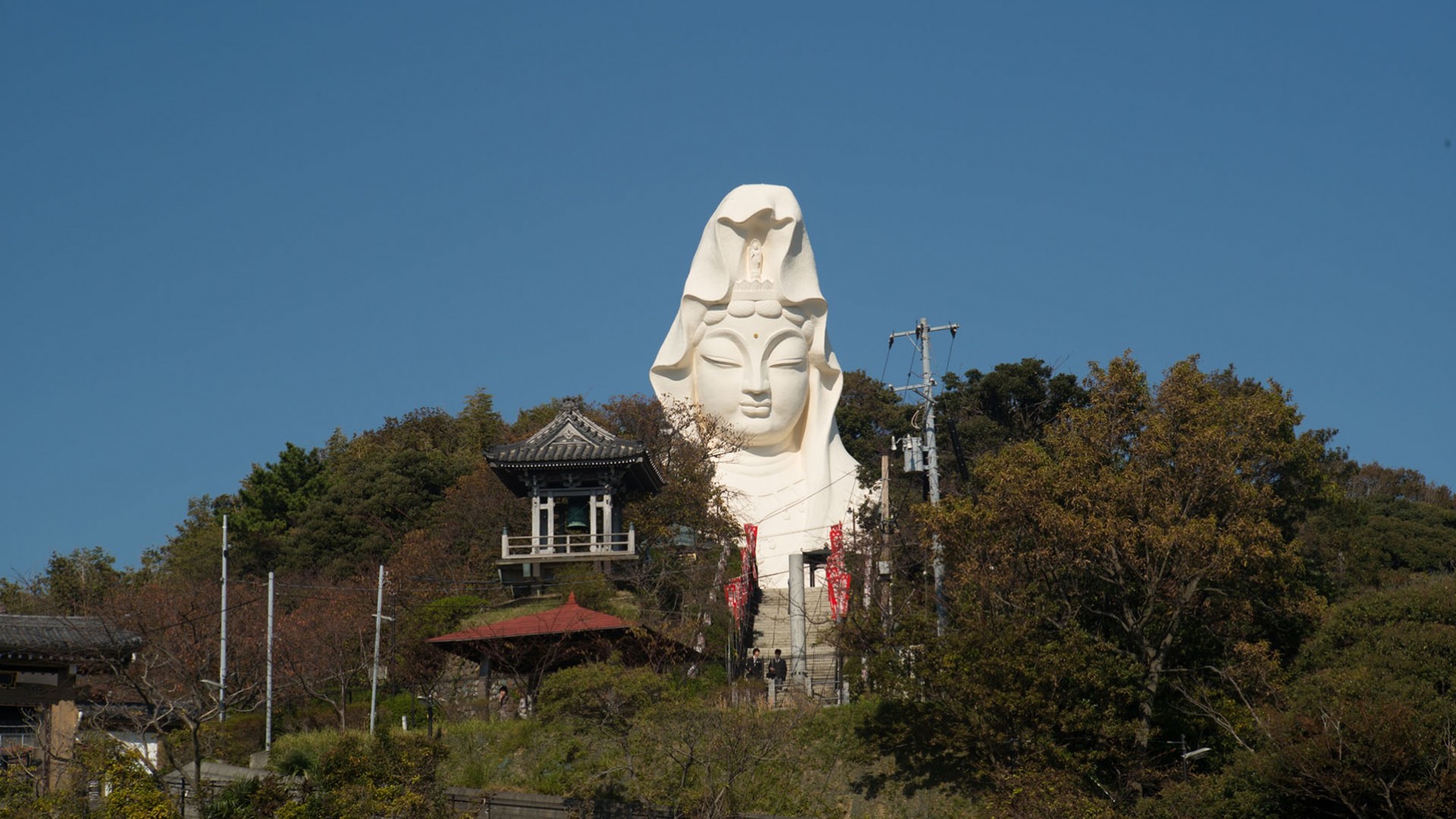 Ofuna Kannon Temple
The Ōfuna Kannon in the west of Ōfuna Station in Kamakura City is an eye-catching huge white statue of Kannon. Although there were instances where the construction of this statue had to be stopped due to WWII, it was completed in 1960 (Showa 35) and is now a symbol of Kamakura City Ōfuna Ward, gently protecting the many visitors who come to pray.
Travel tip
This modern temple is home to the Ofuna Kannon, a 25-meter statue of the Buddhist goddess of mercy, watching serenely over visitors. At the Yume Kannon Festival held in autumn each year, you can watch performances of music and dance from around Asia.
Prepare yourself for breathtaking beauty as your crest th stairs in front of Ofuna Kannon Temple in Kamakura, Kanagawa Prefecture. This gentle statue of Kannon stands to the west of Ofuna Station. The 25-meter tall statue of the goddess of mercy was completed in 1960, after enduring many breaks in the construction process due to World War II. It now hosts the Yume Kannon Festival every autumn, where visitors can watch performances of music and dance from around the country. The Ofuna Kannon Temple is especially known for protection against sickness and disasters, conception, easy childbirth, and health and happiness in children.
Construction on Ofuna Kannon Temple began in 1929, and its outline was completed in 1934. After the outbreak of the Pacific War, the building was halted but finally picked up again in 1954. The Kannon statue also incorporates stones from ground zero of both Hiroshima and Nagasaki, in order to commemorate the victims who passed away in the atomic bomb explosions. Interestingly, this statue is made up of sections of concrete, all poured by hand as no concrete pump trucks were used. To maintain the serene mien, the statue's outer layer is often painted white. Inside the statue, there is also a small museum and shrine, both of which are open for public viewing for a fee of ¥300.
The image of Kannon is often seen as a common link between various nationalities. As such, the Ofuna Kannon Temple provides a sense of familiarity to many foreigners living in Japan. Documentation, provided at the statue site, hopes that the Ofuna Kannon can give Japanese citizens and foreigners a sense of commonality and kinship. This is most reflected in the September-held Yume Kannon Festival. The festival is a chance for all people, despite their nationality, to come together through their belief in Kannon via song, dance, and the traditional atmosphere.
A one-day Zen class is also held every month on the 18th (excluding May). This is Kannon Day and for only ¥1,000, you can take part in the Zen class. You will learn about Zen life and practices by meditating, chanting sutra, and working in the gardens. From 9 am to 9:50, a Zazen meditation is held along with sutra chanting and prayers for world peace and public peace. After the Zazen period, join in on cleaning rooms, passages, rest rooms, and gardens as a part of Zen meditation. At lunchtime, you'll enjoy the simple fare of rice gruel and barley according to the traditions of the Zen temple . Finally, after cleaning up after your meal, you have the opportunity to join in on Baikaryu Eisannka (Japanese Buddhist hymns).
You can access Ofuna Kannon Temple easily on foot in five minutes from JR Ofuna Station's west entrance. There is no parking lot available so, although the temple is reachable by car, public transportation is recommended.
Essential Information
Costs

Adults (High school students and older): 300 yen
Children (Elementary / junior high school students and under): 100 yen
Groups (more than 20 persons): 200 yen each
*Free for infants

Online Reviews
TripAdvisor