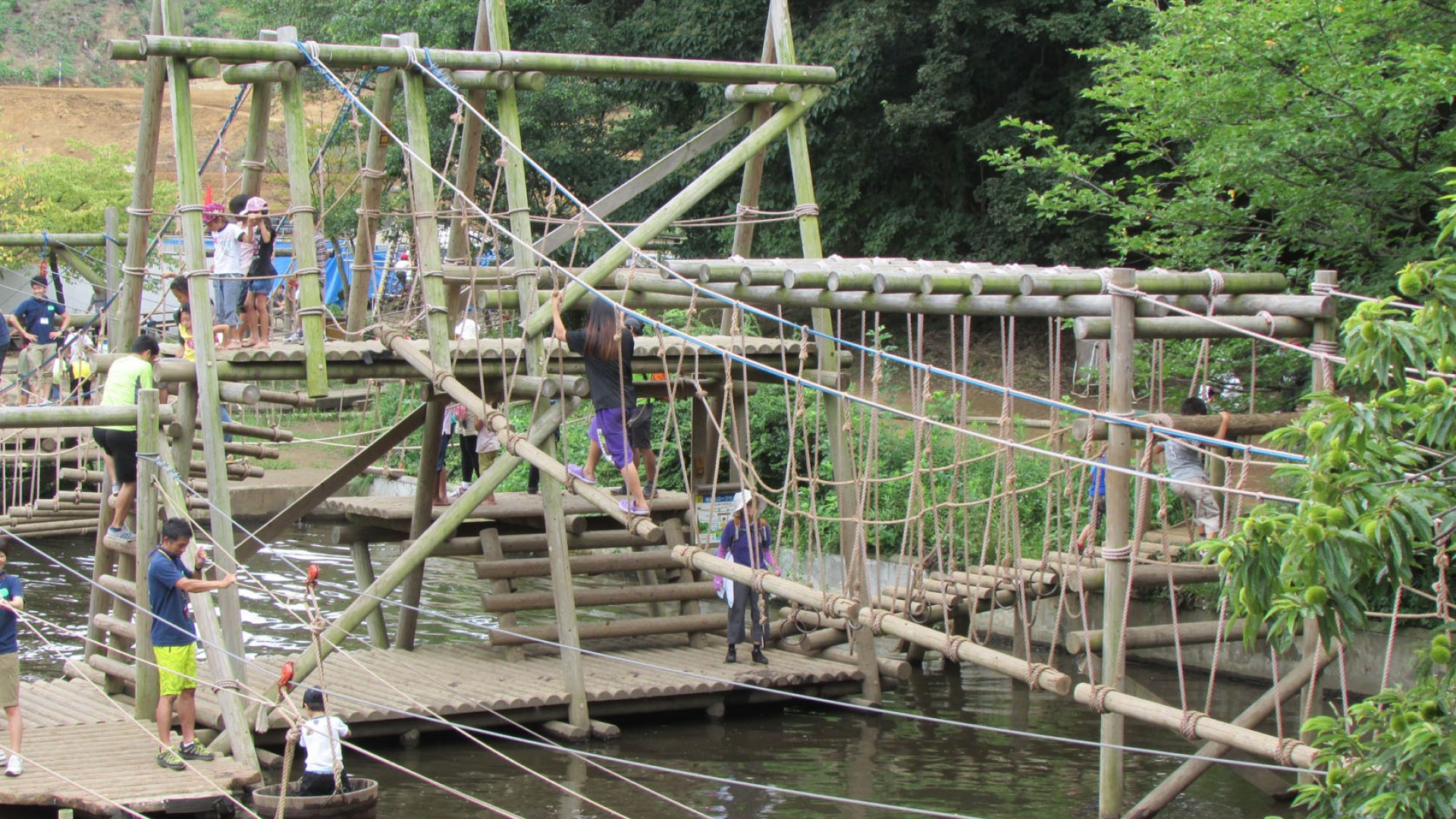 Field Athletic Yokohama Tsukushino Course
Visitors can play and have fun in nature. An ingenious athletic facility enables you to get in touch with nature in a healthy way.
Located a little over an hour away from Tokyo by train or car, Field Athletic Yokohama Tsukushino Course is a natural haven filled with outdoor fun for all ages. The facility includes 50 obstacle courses that weave through Kanagawa's rugged terrain and ponds with varying degrees of difficulty. The courses will challenge your entire body as you swing on ropes, balance on beams, and climb across nets. Although the courses are geared more towards children, adults and teenagers can enjoy the challenges too. The rustic feel of the courses, coupled with the fresh forest air is an excellent change of scenery from the nearby urban development. The facility also includes BBQ spots where you can refuel with your favorite foods. You can enjoy this park year-round from 9am to 5pm (4:30pm during winter).
Travel on the Tokyu Denentoshi Line to Suzukakedai or Tsukushi Station where the walk to the facility is about 15 minutes from either stop. The park recommends that you travel by train, rather than car, during the weekends and holidays as the parking lot can become crowded quickly.
Obstacle Courses that Blend Exercise with Nature
Field Athletic Yokohama Tsukushino Course is divided into four areas: East Mountain, Pond, West Mountain, and Surprise. The first set of courses are located in East Mountain and include a variety of physical challenges meant to warm up your body for the remainder of the experience. Here, you can navigate the courses by hopping across logs and climbing nets. The second stage, named Pond, is aptly named for its integration of water into its courses. Make sure you are dressed appropriately as you swing from ropes above the water and balance on wooden rafts. The third group of obstacle courses, located in West Mountain, are a little more involved and physically demanding than the prior ones. In this section you are instructed to complete a number of interactive tasks, such as riding a pulley through the trees, making a rotation inside a circular net that is reminiscent of a hamster wheel, and even hanging upside down on logs! The last stage, called Surprise, is filled with more uniquely composed courses to challenge your body. Apart from the facility's main four stages is the Tom Sawyer Adventure Forest. This elevated playground includes fun activities such as a long tunnel slide and pulley rope.
Barbeque and Other Amenities
The facility's BBQ spots ensure that you can nourish yourself with your favorite foods after navigating through the collection of obstacle courses. The park rents out essential barbequing supplies for ¥1,800, such as a gas or charcoal stove, charcoal, and ignition materials. You can also rent other cooking supplies like knives and cutting boards, and even purchase the ingredients on-site. Choose from a host of delicious options such as beef, pork, vegetables, and sauces. Please note that there is a drink fee if you intend to bring alcohol. The area also has lockers, changing rooms, and showers.
The price of admission varies based on the season and day of the week, but ranges from ¥500 to ¥900 depending on age. Children under the age of three can enter for free.
If you are craving adventure among the trees, be sure to stop by Field Athletic Yokohama Tsukushino Course for a memorable experience.
Essential Information
Hours

9am–5pm

In order to prevent the spread of coronavirus (COVID-19), various facilities may change their operating days or hours.

Suggested duration

2h

Closed
Year end & new year holidays
Costs

Adults 900 yen, junior high and high school students 800 yen, elementary school students and children 600 yen, under age 3 free