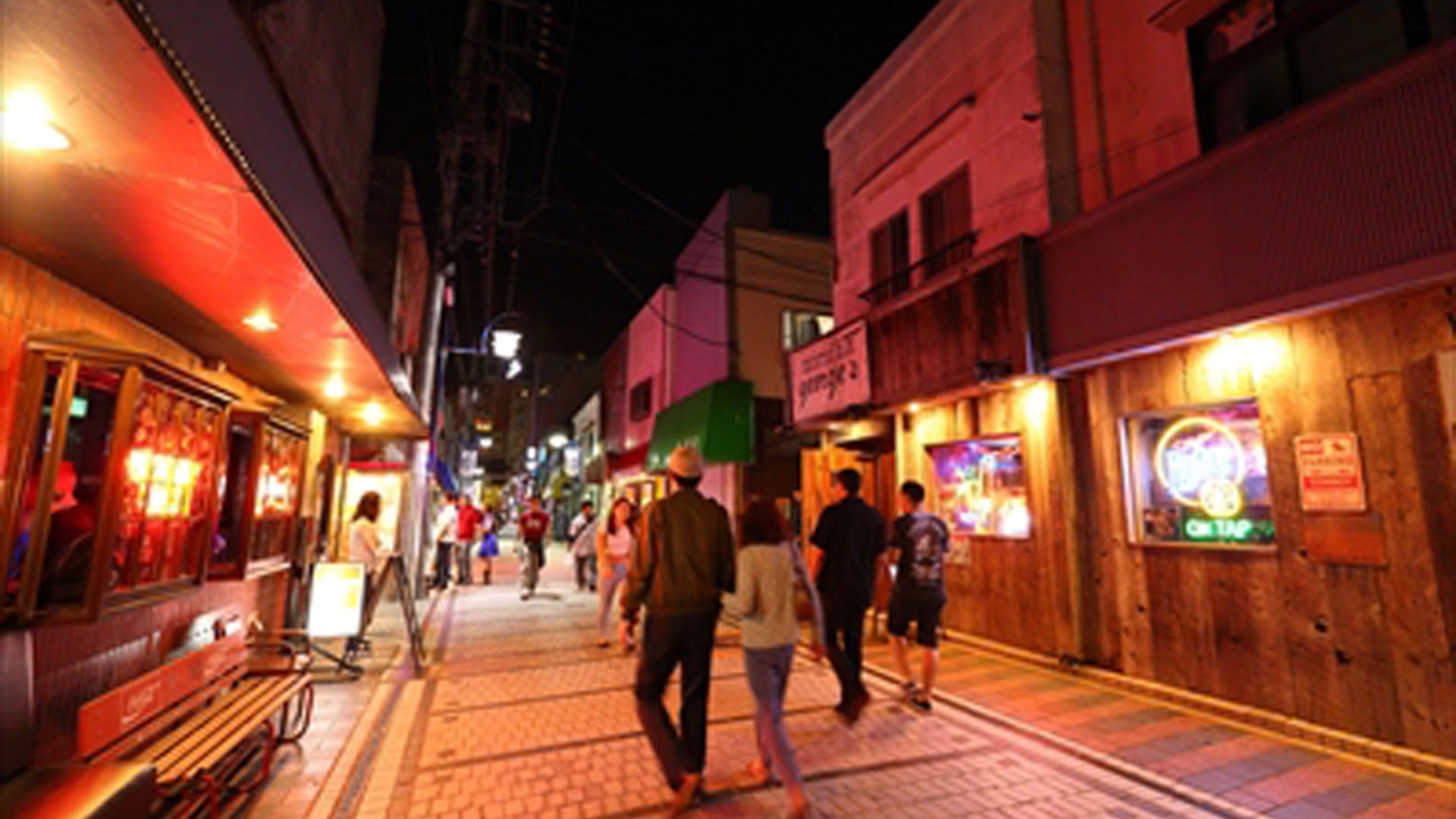 Yokosuka Dobuita Street
The shopping arcade in front of the main gate of the U.S. Navy Base. The arcade thrived after World War 2 as a shopping mall for the U.S. Navy stationed in Yokosuka. Today, the street is dotted with apparel shops focused on youth (offering "Sukajan" jackets, etc.), and restaurants and bars for Americans.
Travel tip
Take advantage of Dobuita Street's Yokosuka Navy Burger Map to help guide your Japanese-American food experience. The map highlights all the hamburger spots with images and descriptions of the delicious dishes. If you are staying in the area for a few days, try to hit all the restaurants!
Yokosuka is famous for their U.S. Navy Base and many other sights—but just as famous has to be Dobuita Street. Dobuita Street stretches from Keikyu Shiodome Station to the U.S. Navy base. Today it's a major shopping arcade but it has its roots in the time after World War II. What began as a shopping mall for U.S. Navy stationed in Yokosuka, itself a prosperous military port city at the time, has become a major shopping street dotted with apparel shops focused on youth, as well as restaurants and bars aimed at Americans.
Get hit by the sweet scent of burger and fries as you hit Yokosuka Street, or as it's affectionately called by the sailors there: the Honch. During the day the street is a fashion and food center, with several specialty stores offering play-on-word American spinoff items. You can find Perry Curry and even Trump Burgers. Many of the shops even accept U.S. dollars. The Maritime Self-Defense Force of Japan has also approved the local specialties: Yokosuka Navy Curry and Kaiji Curry; rumor has it that these recipes originated on the bases and are now served at several restaurants. At night, the area becomes a local bar and club district.
Especially well known in Yokosuka Dobuita Street are the embroidered bomber jackets, also called "sukajan". Created after World War II, American soldiers used the remnants of parachute capes to create light jackets similar to popular varsity and university jackets. While in Japan, these jackets became embroidered with motifs of military inspiration and a mixture of Japanese and American culture. All of it mimicked the Japanese tattooed look. Later earning the name "sukajan", sort for Yokosuka jumper, these jackets became a hit with the youth culture of Japan and, in particular, the Japanese "greaser" bad boys. This was largely thanks to the movie Pigs and Battleships (Buta to Gunkan), released in 1961. This type of jacket became the classic local souvenir for visiting tourists, and even had a hit with European designers in the 2010s.
If you're a fan of the old Sega Dreamcast console, you might even recognize Dobuita Street from the hit game "Shenmue". Several shops in the video game are directly copied from life—albeit with a name change. Dare you test your gamer memory and try to find all the famous sights of Yokosuka and Dobuita Street that Ryo visited?
Enjoy this fusion of Japanese culture clashing with American styles. Visit the departure port for a naval port cruise which lets you see the Japanese and American warships as close as possible. Have a good time dressing up in historic costumes and having an old-fashioned portrait taken. And there's even a walk of fame complete with Japanese celebrity handprints; find such greats as Takashima Hideki—better known as X Japan's Hide—and over forty more stars.
Nightlife
A regional promotion coupon that will help you enjoy Yokosuka to the full. Offering deals on shopping, eating, drinking, and entertainment, it's an essential item and your passport to visiting Yokosuka.