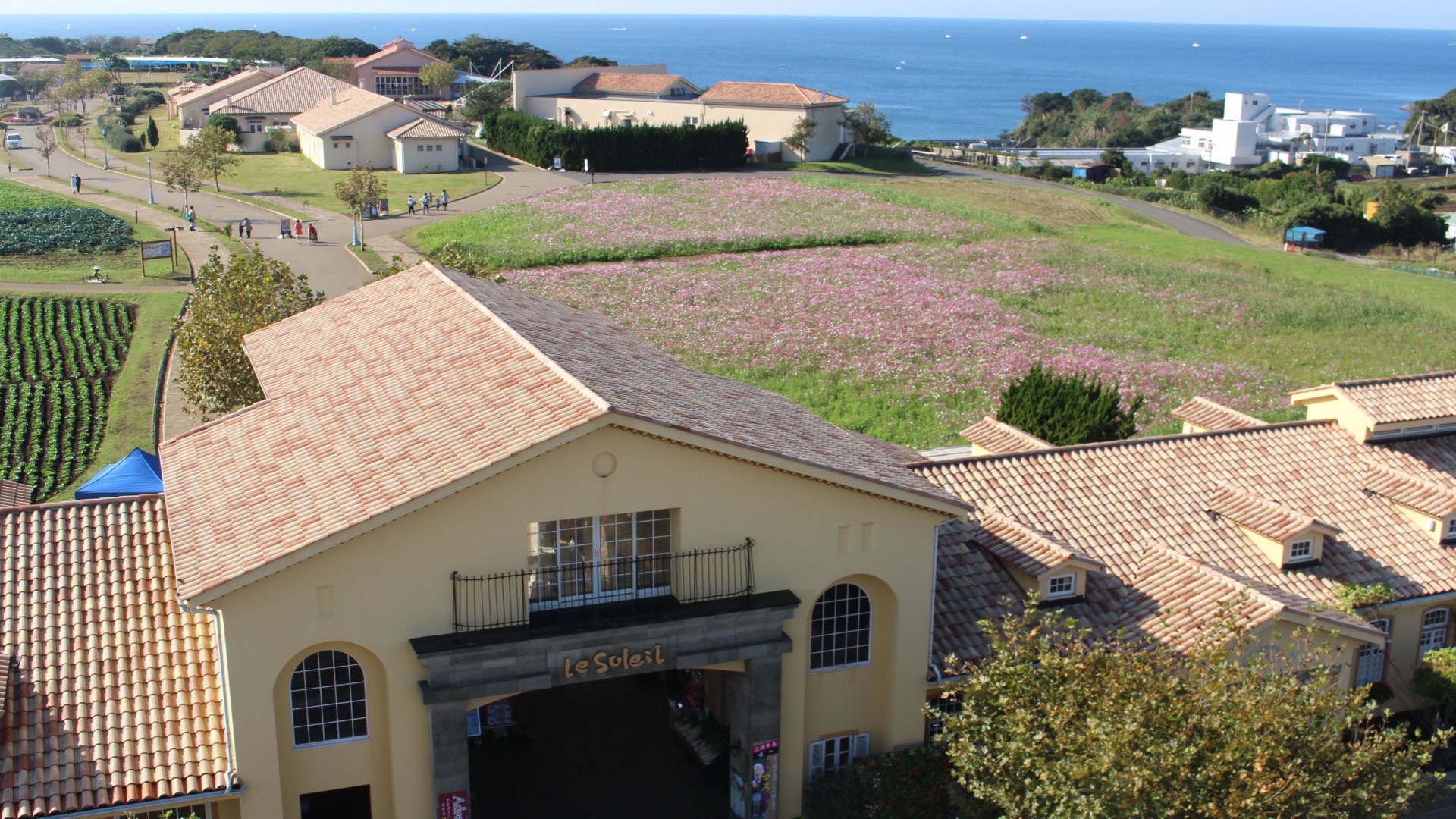 Nagai Seaside Park - Soleil Hill
This place is temporarily closed. Please check the official website on reopening, operational information and more.
Closed for refurbishment until April 2023 (planned re-opening)
This is an interactive park where you can experience and enjoy Miura Peninsula's agriculture and the sea. In the park surrounded by the sea, there are flowers blooming every season, a farm where you can harvest vegetables in season, outdoor facilities such as a breathtaking go-kart course and grass sliding and a restaurant with the theme of "farm" and "sea". Other activities include bread making and handicraft workshops and interacting with various animals such as capybaras and kangaroos at the Animal Village.
Travel tip
From mid-December to the end of March, the rape blossoms are in bloom for more than a hundred days. On a clear day, you can see Mount Fuji over Sagami Bay. Those who like sunflowers should consider a visit the park during July and August to see the vibrant flowers in full bloom and enjoy the sunflower-inspired menu.
Nagai Seaside Park – Soleil Hill is an interactive park on Miura Peninsula in Kanagawa Prefecture where you can enjoy Japan's agriculture and the sea. With flowers blooming year-round and sea air blowing over the fields, you'll feel as though you've been transported to simpler, purer days. The park itself is modeled to look like a provincial town in South France. Try your hand at harvesting vegetables that are grown in season and visit a restaurant with dishes centered around the themes of farm and sea. If you're feeling crafty, try your hand at one of the many workshops around Nagai Seaside Park, such as bread or candle making and other unusual handicrafts, like an ocarina decoation you can play.
For animal lovers, there are charming capybaras and kangaroos ready to steal your heart. See the exciting bird show where colorful macaws and cool hawks are shown flying through the sky with their trainer. Meet fluffy alpacas who love a good cuddle, and visit a puppy park and a rabbit park. Children can even try out riding a pony.
And for the more high-paced visitor, why not sit behind the wheel of a go-kart and race around the course? There are also splash areas that are free of charge, slides, trampolines, swan boats, and even archery experiences. For younger audiences, take a slow spin on the Ferris wheel or the merry-go-round, or a trip around the park on a small road train.
After you have finished your day of experiencing the park's wonders and enjoyed your fill of on-site barbeque, it's time to take a dip in the open-air bath that overlooks Sagami Bay. Rejuvenate your body, mind, and soul as you watch the distant waves lap against the land without a care in the world. Catch a clear view of Mount Fuji in the winter air or, in summer, surround yourself with over 100,000 sunflowers blooming cheerfully.
With so many things to do at Nagai Seaside Park – Soleil Hill, you may need to stay for an extended visit—well, you're in luck because this incredible park offers a campsite. Experience everything the park has to offer while camping with your friends or family and get a breath of fresh air away from city life.
Essential Information
Hours

Mar-Nov: 9:00-18:00
Dec-Feb: 9:30-17:00

This place is temporarily closed. Please check the

official website

on reopening, operational information and more.

Suggested duration

1h

Closed
Open throughout the year
Costs

Free

Access

Keikyu Railway: Misakiguchi Station Bus: Soleil-no-Oka-Mae