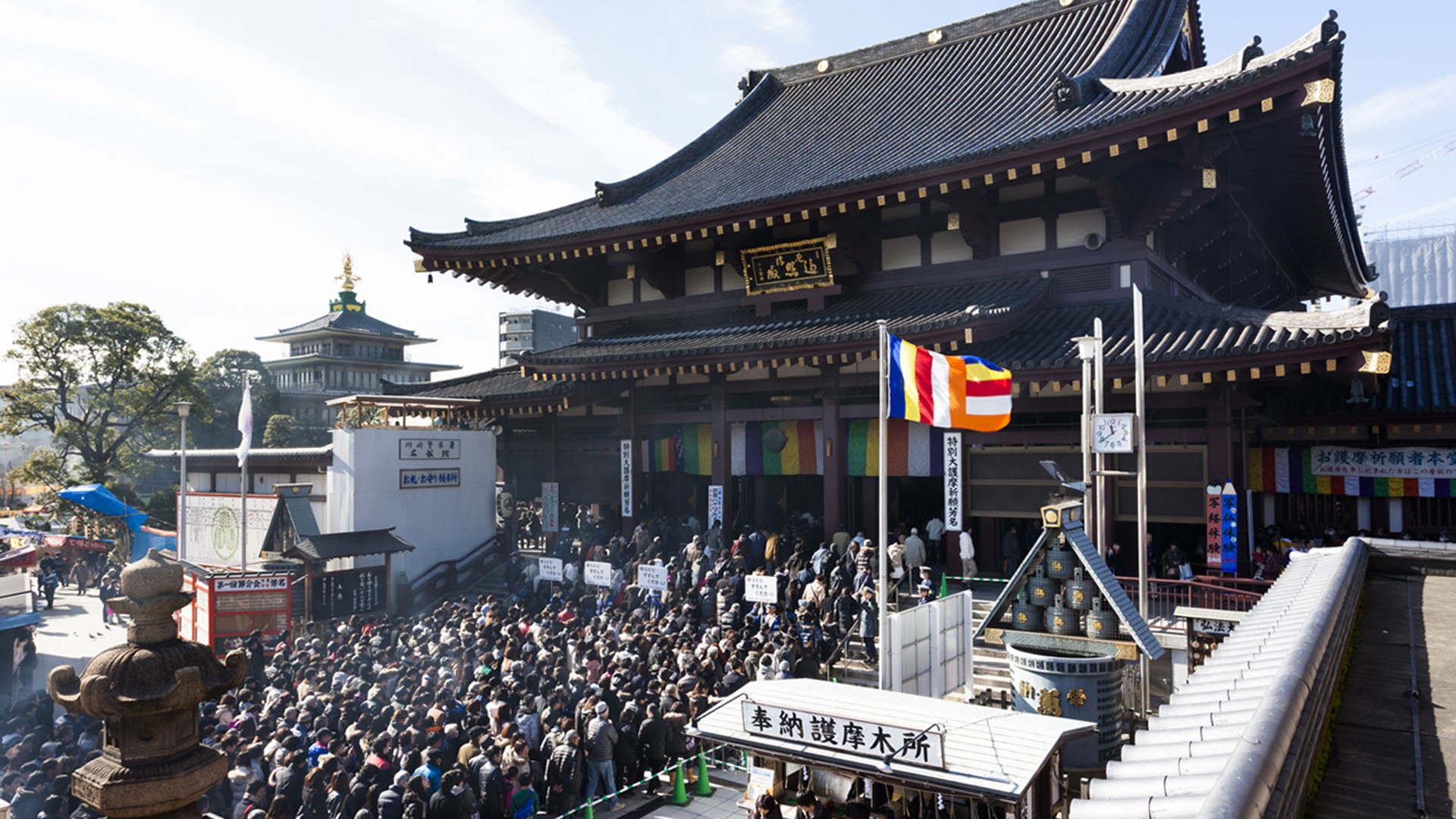 Kawasaki Daishi Heiken-ji Temple
One of Japan's famous temples with over ten million visitors per year. It is known for warding off evil (Yakuyoke Daishi). Every day without fail, a priest will hold a prayer ceremony (Gomakito) for the wishes of believers to be fulfilled.
Founded in 1128 AD, the Kawasaki Daishi Heiken-ji Temple is well known for its 'Yakuyoke', or power to ward off evil. The temple even has a nickname pertaining to this power: Yakuyoke no Odaishi-sama. The temple worships an object called Yakuyoke Kobo Daishi, the posthumous name of the Buddhist priest Kukai (774-835), and belongs to the religious Chisan School of Shingon Buddhism. Kawasaki Daishi Heiken-ji Temple is one of the largest temples belonging to this school denomination.
Also known as Kawasaki Daishi, Heiken-ji hosts many events during the year. It is an especially popular temple for New Year worship attracting well over two million visitors every year. In fact, it is often the third most-visited temple for New Year's hatsumode (first shrine visit) and once every ten years, lucky visitors can see the Yakuyoke Kobo Daishi statue. The statue was supposedly pulled from the sea and is the only time when it is made available for public viewing.
During World War II, the temple was destroyed with a small Shinto shrine the sole survivor. The buildings present today are reconstructions of Heian-era architecture but are no less beautiful for it. One of these buildings is the Sutra Hall and contains over 1700 hand-printed volumes of Buddhist sutras; even the ceilings are intricately decorated with Chinese-style Buddhist paintings.
Wherever you go on the temple grounds, you can be sure to feel the spirit of history and Buddhism all around. Why not attend one of the daily gomakitou, or burning purification rites? The rite 'burns away' worldly desires and bad luck and is held three times a day. There are also prayers for people during their 'bad luck years' (yakudoshi) which differ for men and women. Whatever the bad luck is that you need to expell, there is a charm, amulet or prayer from the temple that can aid you.
Kawasaki Daishi Heiken-ji Temple in the morning
You can visit the shrine from early in the morning; this is also the time when it is less crowded. The Nakamise (street market) is also a fun place to walk around after visiting the shrine.
Essential Information
Hours

Entry to main hall from 6:00-17:30

※5:30-18:00 from Apr to Sep

In order to prevent the spread of coronavirus (COVID-19), various facilities may change their operating days or hours. Check the

official website

for the latest information.

Suggested duration

30m

Closed
Open every day
Facilities
Online Reviews
TripAdvisor