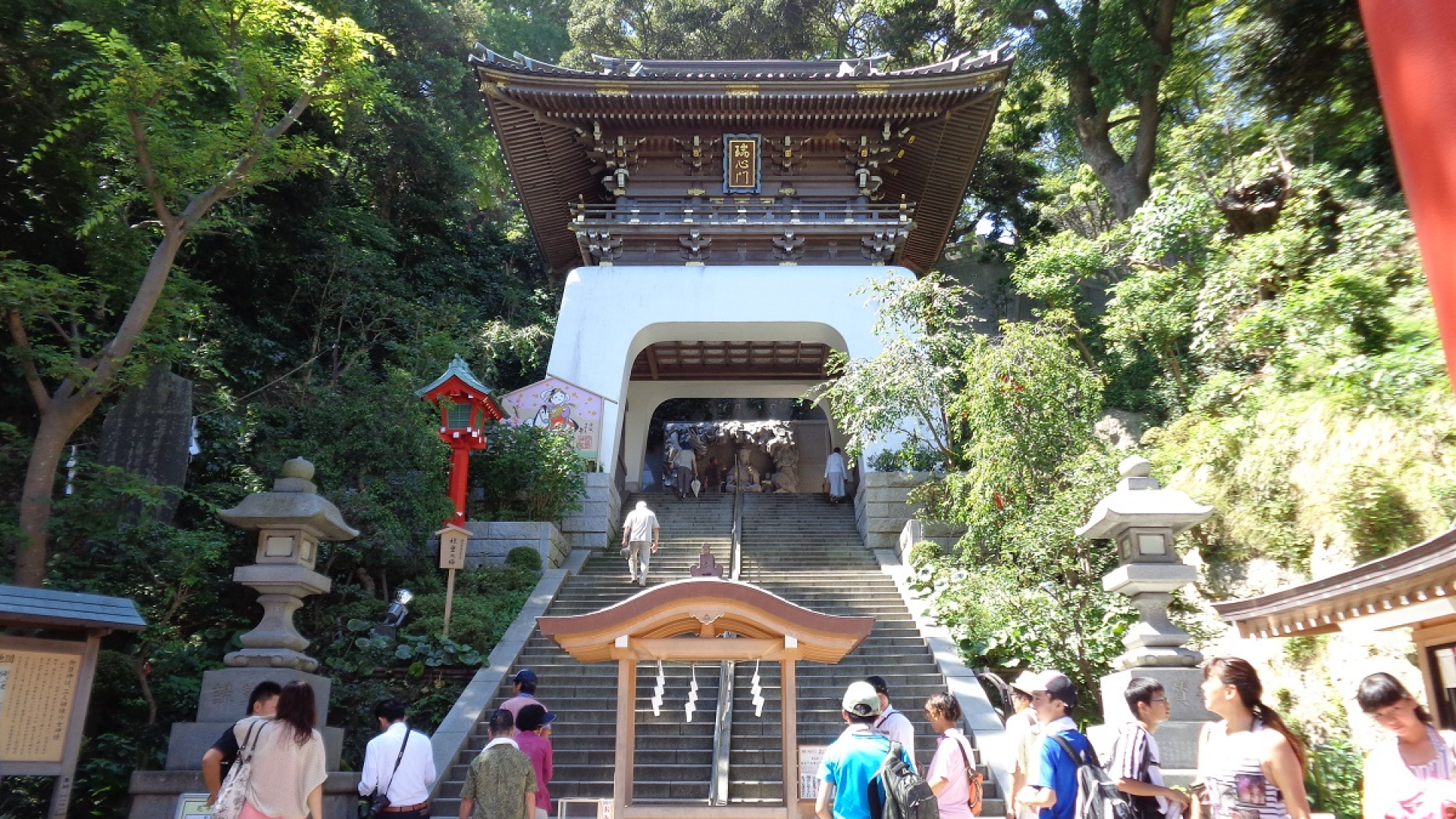 Enoshima Shrine
Enoshima Shrine consists of three palaces, Hetsumiya, Nakatsumiya and Okutsumiya. Three-sister sea guardian is worshipped in each palace. In ancient times it was called Enoshima Myojin. You can feel the atmosphere of the mixture of myths. This are winter constellation Orion's myth and the three- sister gardians' myth. Three stars in the Orion's Belt transformed to three Godess as daughters of Amaterasu Omikami. They are worshipped in Munakata Taisha Shrine in Kyushu.
Built in 552 upon the imperial order of Emperor Kinmei, you can feel the atmosphere of myths come to life in this ancient place. Hetsumiya, Nakatsumiya, and Okutsumiya are collectively dedicated to Benzaiten, the goddess of arts. According to legend, during the 12th century when Japanese ruler Hojo Tokimasa visited the shrine to pray for prosperity, he received a prophecy from a mysterious woman—said to have been Benzaiten—who left behind three scales after transforming into a snake and disappearing into the sea. Those three scales later formed his family crest.
Today, Enoshima Shrine's sprawling grounds welcome visitors who need a respite from the island's many attractions. This spiritual site spreads from Bentenbashi Bridge deep into the heart of Enoshima Island. The bronze torii gate, aged green by the salty winds and time, was originally made of wood but later rebuilt in 1821. The names of the donors are still carved into the trunks of the torii gate.
From there, Benzaiten Nakamise Street stretches all the way to the vermilion-lacquered gate in front of the shrine gatehouse. The street passes through an area known as Monzen-machi, or Temple Town. Traditional Japanese inns, shops, and restaurants line both sides of this street and make for a great day of shopping and sightseeing. The Enoshima Shrine Gatehouse at the end of the street is modeled after the mythical Dragon King Castle from the Japanese folktale Urashima Taro. The gate is officially named Zuishinmon, or "pure soul", in hopes that visitors will refresh their spirit by praying here.
Also of special notice is the Hoanden (Octagonal Hall of Statues); for a small entrance fee, visitors can enter and see statues dating back to the 1100s. It is believed that Minamoto-no-Yoritomo donated the statue of Happi-Benzaiten and that the Myoon-Benzaiten statue was donated later in the Edo period. The Happi-Benzaiten statue is the oldest statue of its kind; it depicts the eight-armed Benzaiten with all of her divine treasures: bow, arrows, sword, gemstone, wheel, spear, pestle, and key. The Myoon-Benzaiten, on the other hand, is gentler and expresses femininity; it is believed to have been made during the Kamakura period. Both statues of Benzaiten show the goddess in her role as an entity of artistry, music, and wisdom.
The shrine is also home to a number of festivals and other annual events. Enoshima Tenno Festival is celebrated in mid-July and sees that a mikoshi from the shrine is bathed in the ocean nearby.
Essential Information
Hours

Reception hours: 8:30am - 5pm

In order to prevent the spread of coronavirus (COVID-19), various facilities may change their operating days or hours.

Suggested duration

30m

Costs

Hoanden (storage facility outside the statue of Benzaiten) Adults 200 yen, junior high and high school students 100 yen, children 50 yen

Access

Odakyu Line, Katase-Enoshima Station