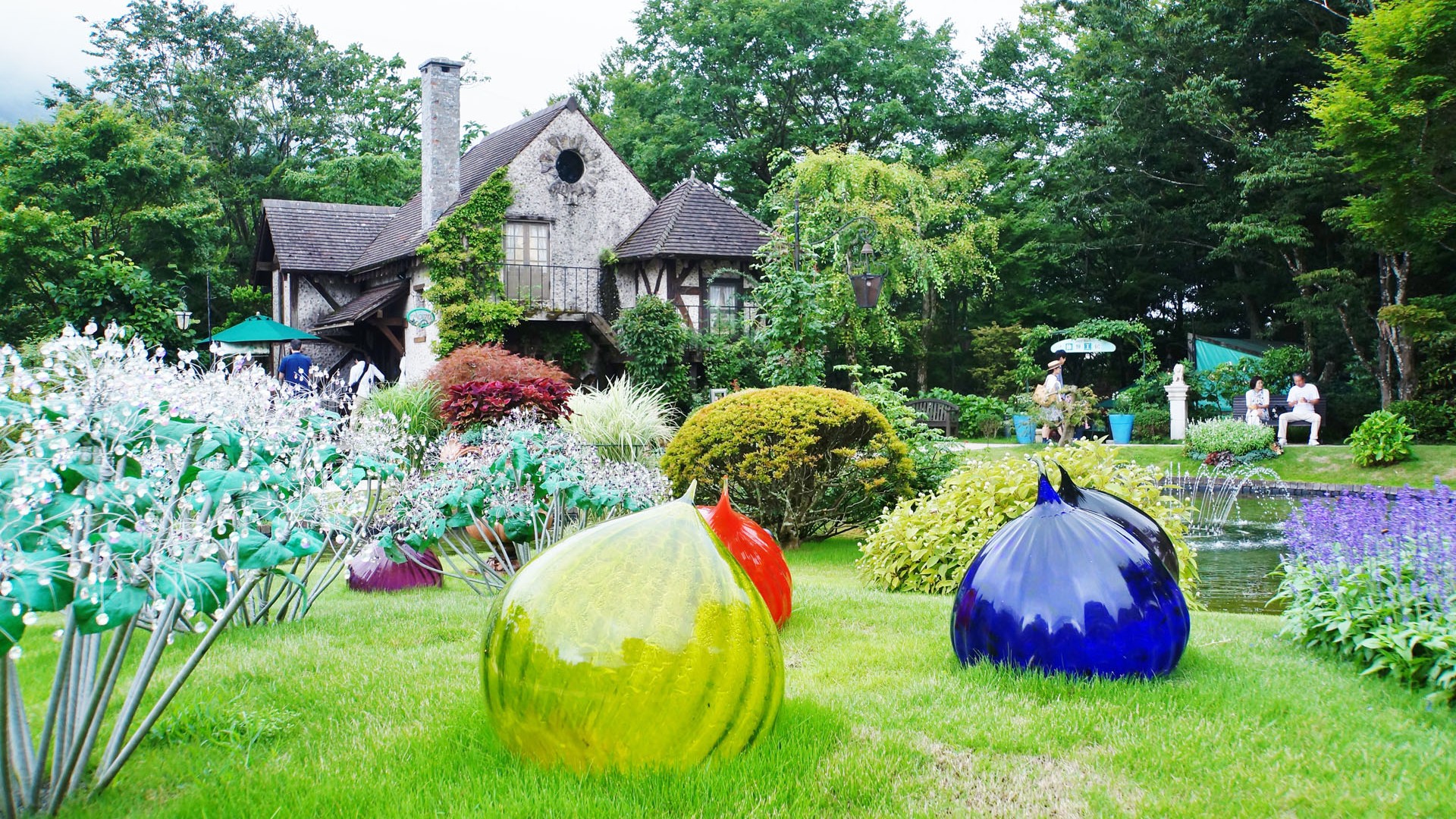 Hakone Venetian Glass Museum
An exhibition of Venetian glass masterpieces that fascinated European royal aristocrats during the Renaissance. There are various facilities in the museum, such as a cafe restaurant where you can enjoy Italian cuisine and original sweets made with seasonal ingredients, and a museum shop where you can find glass products directly imported from all over the world.
Travel tip
Magical atmosphere for lovers of glass and Venice, but don't expect to see anything Japanese here. Good on both sunny and rainy days.
Get a glimpse of a European villa in the Middle Ages through this delightful museum. Venetian glass had its golden age in the 16th century and experienced its decline in the 1800s. Relive the heyday of Venetian glass at the Hakone Venetian Glass Museum. The museum showcases enchanting Venetian glass sculptures in Italian-styled buildings and a large strolling garden surrounding a canal-like pond. Enjoy the outdoor and indoor exhibitions, including a hands-on workshop, a museum shop selling beautiful imported glass pieces from around the world, and a restaurant with an authentic live canzone (Italian ballad) performed by an Italian singer.
Marvel at more than one hundred pieces of Venetian glassware, including both modern and classical works, such as lamps, vases, goblets, and sculptures; some dating back as far as the 1500s. Outside, in the neatly manicured garden with its winding paths, you'll also find several large installations of Venetian glass. Visit the open terrace café while you take in the crisp air, live music, and famous fruit tea. Walk through the Corridor of Light, a 9-meter tall crystal glass arch and get lost in the daydream appearance of light filtering through over 160,000 crystal glass beads as they glitter in the breeze. A prism of colors decorates the Corridor of Light, and it's especially breathtaking in autumn.
No matter what season you choose to visit the Hakone Venetian Glass Museum there's sure to be a wonderful world of shimmering splendor waiting for you. Get into the holiday mood with the jolly faux fir tree in winter; with about 80,000 beads, it stands at 10 meters tall. Whether you see it in the daytime or at night—when it's lit up—you'll be left feeling that holiday twinkle and cheer. In spring, fall in love with the gently swaying branches of the 38,000-crystal bead cherry blossom trees as they sparkle and shine. Delicate pink and green beads reflect the light and make for a wonderland experience. The Venetian mask festival will add an air of mystery to your visit in early summer and early winter.
One visit alone may not be enough though. The Hakone Venetian Glass Museum is not just a regular museum for guests to only spectate. This is an interactive experience of glass, light, crafts, and fun. Try your hand at the sandblasting studio by carving patterns via sand. Melt and fuse glass together to make keyholders and accessories in a way you've never tried before.
And before you leave be sure to visit the museum shop to gander at the Venetian glass and crystal glass on sale. Accessories, wine glasses, ornaments, and glass tile coasters are sure to be a hit with you or anyone lucky enough to be on your souvenir list. While you're walking around be sure to enjoy the free Wi-Fi. The museum is also wheelchair and stroller accessible. It's easy to find the Hakone Venetian Glass Museum, just take the Hakone Tozan Bus from Odawara or Hakone Yumoto Station bound for Togendai and get off at Hyoseki/Hakone Garasu-no-Mori-Mae and you'll be in for an enchanting visit.
Essential Information
Hours

10am–5:30pm (Last admission 5pm)
*Open until 4:30pm on De. 30 & 31 (Last admission 4pm)

In order to prevent the spread of coronavirus (COVID-19), various facilities may change their operating days or hours. Check the

official website

for the latest information.

Suggested duration

1h

Closed
Open all year round (closed from 10 Jan 2023 to 20 Jan 2023).
Costs

Adults: 1,800 yen
College & High school students: 1,300 yen
Elementary/Junior high school students: 600 yen

Access

Hakone Tozan Railway Hakone-Yumoto Station

Facilities

Wheelchair friendly
Wi-Fi Available

Language
Online Reviews
TripAdvisor