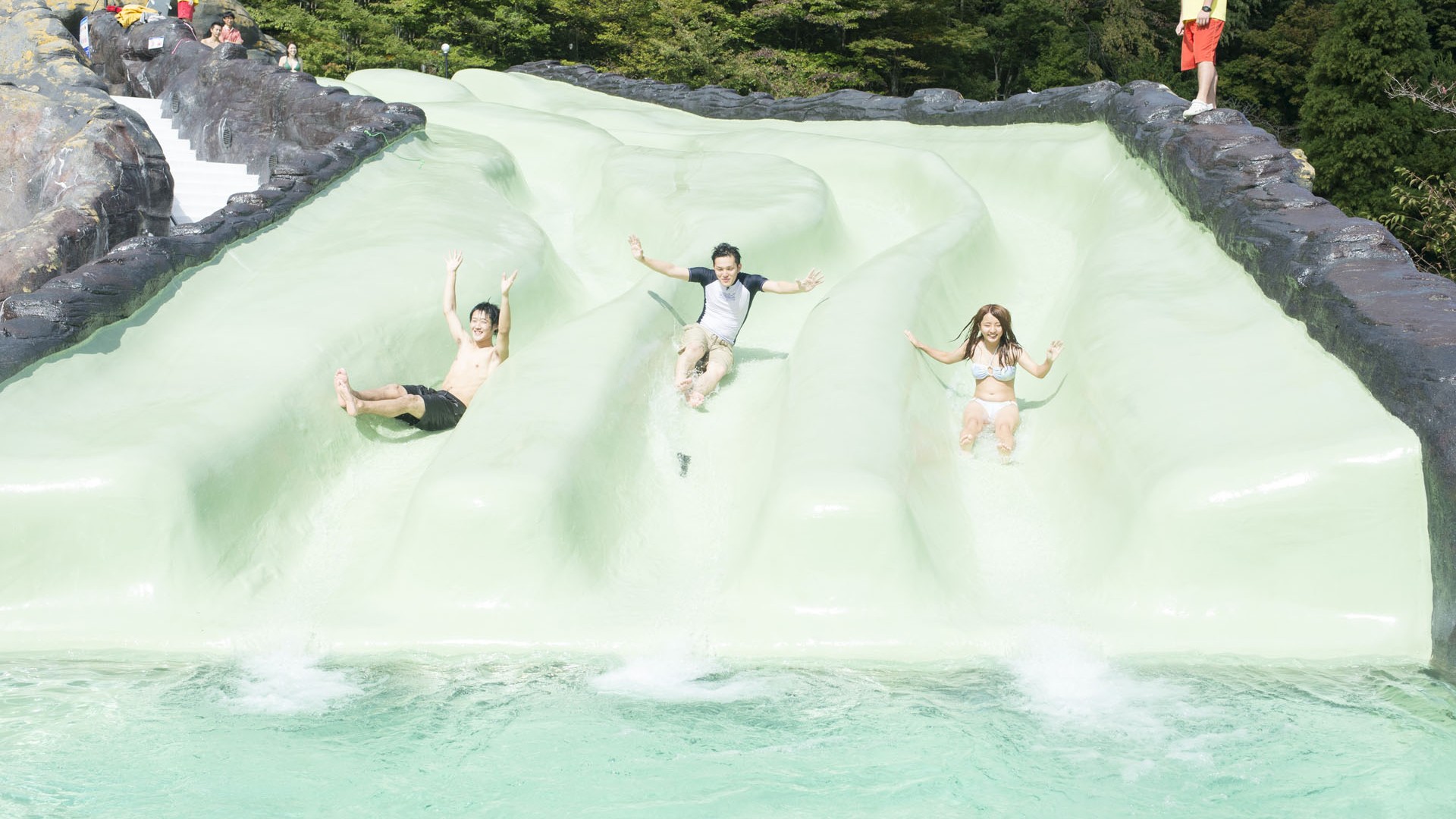 Hakone Kowaki-en Yunessun
This recreational facility consists of 2 areas: the "Yunessun" play area for playing in the water in bathing suits and the "Forest spa" relaxing hot spring bathing area. "Yunessun" contains some unique baths, such as the "authentic coffee bath" and the "open-air wine bath," as well as "Rodeo Mountain," Hakone's only water slider. There's also "Doctor Fish's footbath," which provides a unique sensation, and the "floating bath." All of these are to be enjoyed in bathing suits. "Forest spa" boasts a magnificent view of Hakone's volcanic peaks from the open-air bath. The cypress bath and the ceramic bath made with Shigaraki pottery provide a Japanese traditional atmosphere. The facilities also include a lounge where visitors can lie down and take a rest, and a relaxation room offering spa treatments and massages. It is an all-weather recreational facility, for enjoyment and relaxation rain or shine!
Escape the speed of modern life and embrace relaxation at this one-of-a-kind theme park. Hakone Kowaki-en Yunessun is a hot spring park located in Hakone, Kanagawa Prefecture, and is brimming with activities and unique bathing experiences for all ages. The park is conveniently located across the street from Kowakien Bus Stop, which has connections to Tokyo via commonly used train and bus stations, ensuring your trip to and from the spa is as stress-free as the experience within.
The park is divided into Yunessun, the swimwear area, and Mori no Yu, the no-clothes area. Both sections epitomize the tranquility of traditional bathhouses, while also offering quirkier options such as coffee or wine baths!
Yunessun Area
Enjoy indoor and outdoor facilities in the Yunessun portion of the park year-round. The steady flow of hot spring water ensures that you will be comfortable outside even in the colder months. One of the main outdoor attractions is Rodeo Mountain, which includes three water slides flowing with hot water. Each slide's path is different, so be sure to try all three! Next to Rodeo Mountain is a 40-meter long hot spring bath known for its stunning views. Feel your worries melt away as the warm waters rejuvenate your soul and the mountainous Hakone landscape captures your senses. Other notable spots are the cave baths located underneath Rodeo Mountain and the Dragon's Waterfall.
Yunessun's indoor area is the perfect place to retreat to when the weather is poor. One of the area's feature pools is the Aegean Sea of Gods, which is a large Mediterranean Sea-themed bath that has illuminated fountain shows every 30 minutes. Be sure to soak in the area's unconventional baths too! The coffee bath is a great place to start for an energy boost. The fragrant pool is filled with coffee brewed in spring water and is said to reduce fatigue and beautify skin. The park's playful wine bath is a popular spot too and shines vibrantly with its red-colored water. Staff add wine to the bath three times a day and sometimes even pour it on guests' heads! Other beverage-inspired baths include green tea and sake ones. You can also enjoy saunas, aroma rooms, and the doctor fish foot bath where little fish nibble away at your rough skin.
Mori no Yu Area
For a more traditional Japanese bathing experience, spend some time in the Mori no Yu area of the theme park. This area exudes tranquility with its artfully crafted stone baths and peaceful landscaping. The outdoor pools are surrounded by the breathtaking mountains of Hakone and, at night, the area is illuminated by soft lantern light to create a truly magical scene. The outdoor area also includes shallow pools where you can lie down in the hot waters, which become especially enchanting at night when the endless starry sky glitters above you. Lounge in the nearby pottery baths too, made of traditional Japanese Shigaraki stoneware, for a rustic experience.
The indoor portion of the Mori no Yu area is filled with huge baths that are surrounded by floor-to-ceiling windows, providing you a connection to the picturesque scenery even while inside. If you desire personal time with your friends, family, or even yourself, reserve a private bath, which can be fully indoor or partially outdoors.
With the plethora of traditional and eccentric options, both areas guarantee your stay will be a relaxing and memorable one.
More Than Just Hot Springs
Hakone Kowaki-en Yunessun provides additional services on-site and has connections to nearby hotels, which are reachable by a short walk or shuttle ride, ensuring that your stay is comfortable and convenient. When you need a break from the hot waters, peruse the shops, lounge in the relaxation room, reserve a personal room, or unwind with a massage. For nourishment, there are multiple restaurants on-site, which sell a variety of food from hamburgers to traditional grilled meats to soba noodles.
Admission for entry to the entire park (Yunessun and Mori no Yu areas) costs ¥3,500 for adults and ¥1,800 for children. Admission exclusively to the Yunessun area costs ¥2,500 for adults and ¥1,400 for children, and tickets to the Mori no Yu area cost ¥1,500 for adults and ¥1,000 for children. Please click here for details.
Essential Information
Hours

Swimsuit Area
Saturdays, Sundays and public holidays / busy season: 9am–7pm
Other days: 10am–6pm

Hot Spring Area
Saturdays, Sundays and public holidays / busy season: 11am–8pm
Other days 11am–7pm

In order to prevent the spread of coronavirus (COVID-19), various facilities may change their operating days or hours. Check the

official website

for the latest information.

Suggested duration

2h

Closed
Closed June 7-9 and December 6-8, 2022 for facility maintenance (otherwise no fixed holidays)
Costs

Bathing Suit Area
Adults: 2,500 yen
Children: 1,400 yen

Hot Spring Area
Adults: 1,500 yen
Children: 1,000 yen

Two Area Passport
Adults: 3,500 yen
Children: 1,800 yen

*Children = 3 years old to elementary school students
*Fee may change without notice

Facilities
Language
Online Reviews
TripAdvisor
Meetings